Designing, prototyping, assembling, and testing new electronics-based ideas require high-level expertise, instruments, and proper source channels for materials and parts. Hardly any small businesses can cover all PCB building cycles from design to working prototype. Today when the world is ticking at a fast pace, most of the labor is outsourced. Such practice is standard within a software creation, as there is lower risk – everything can be fixed and modified at any stage. Hardware is a bit more complicated because mistakes made at the initial stage are passed to the following cycles. This is why companies, hobbyists, and enthusiasts usually tend to take most of PCB manufacturing and to assemble control to ourselves.
The cost and capabilities of PCB assembly service at PCBWay
PCB assembly has never been so cheap. As an example, let's look at one of the leading PCB manufacturers- PCBWay. They are offering a broad spectrum of PCB related services including prototyping of different types of PCB boards, assembly, testing, and even design when you basically need to provide guidelines of device and care is taken from designing to the finished working device.
The pricing of assembly services on PCBWay is attractive and competitive amongst other manufacturers. An online quote form helps to make a rough estimation of the approximate cost of assembly. The amount of 10 simplest PCBs, with either single or both sides placement with about 50 mixed parts, may cost as little as $30.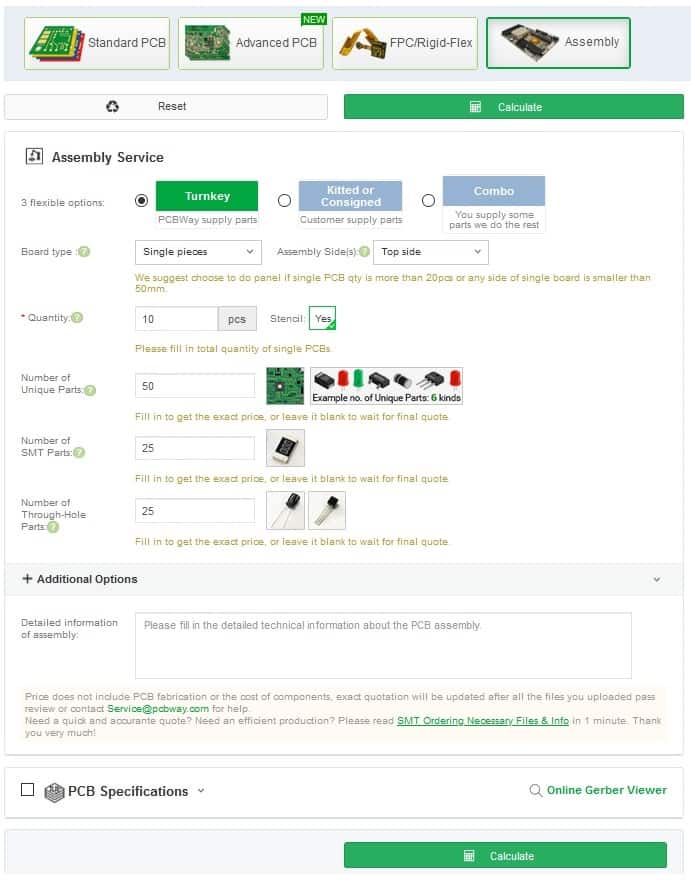 Keep in mind that the price includes the only service the purchase of electronics parts also needs to be covered after review. Imagine how much time and preparation is required if you decide to perform PCB assembly locally. Assembly also involves the preparation of stencils, which is a free option here in PCBWay. The meeting also is tested functionally and passed through X-ray inspection to ensure soldering quality. The turn times may be as quick as 24 hours, depending on board complexity and parts required.
The pros of PCB assembly service
We have already mentioned many positives about outsourcing PCB assembly service. Let's cover them once more:
The low price. You cannot beat it by any means. PCB fab has well-established equipment and professionals that enable produce a high volume of products for cheap.
Fast PCB assembly turn times. In many cases, machines are already ready to lay down and solder essential parts on board. This is why sometimes your PCB may be accomplished within 24 hours.
Free PCB stencils. In case you do assembly and soldering on your site, – stencils may bring additional cost.
The sourcing of electronics parts falls on fab. They have more essential deals when purchasing components from reliable sources such as Digi-key and Mouser and usually in high volumes.
High quality of PCBA. Assembly and soldering are passed through quality control by performing functional and x-ray testing. They have the equipment and team to go through this critical step.
PCBA saves time. The time you would spend assembling and testing boards can be spent on other activities and developing new ideas. Saving time and money is the most significant advantage, especially in small businesses.
There are even more advantages to choosing third party PCB assembly services.  It is better to give it a try and see if this process benefits you. Let's look at what are hidden stones of leaving assembly to others.
The risks of third-party PCB assembly service
After praising PCB assembly service, a couple of shortcoming needs to be mentioned:
You almost have no control during the assembly process. If you spot an error in the design and for instance, you need to replace one or few passives. It may be tricky to do so, especially if the process is already established. Locally you would make adjustments and carry on. If your design and assembly are a mixed process, then it is better to DIY.
Limited control of parts sourcing. PCB fab such as PCBWay has several options on how parts are acquired. For small orders, it is not worth bothering to source parts by yourself – usually, the manufacturer has excellent sources. You may also provide parts by yourself or direct them to source parts from a specific supplier. In general, they are very flexible, and you need to be cautious and knowledgeable about what you are doing.
The other cons may rise depending on device type and expectations. Usually, if the assembly is highly repetitive, the PCBA assembly service is a big saver of time and money. However, if construction is requiring constant intervention and tuning, then you should consider which is best. If unsure what to do, you can always consult the fab assistant on what to do if one issue comes up.
Take a look at the PCB assembly process at PCBWay – the tour made by Scotty from Strange Parts youtube channel:
PCBWay has a broad spectrum of PCB assembly capabilities that include different board types such as standard, aluminum, flex-rigid, and other advanced options. The minimum order is 5 with no limitation to the high side. They have no problem assembling SMT, through-hole, BGA, and fine pitch components. They even are capable of doing repair and rework of hard to solder components such as BGA. Take a look at the full list of PCB Assembly Capabilities.