Building your business from scratch is not easy. And the first steps are always the hardest. Startups always lack connections and a big audience. But there is a solution for attracting more people to your project. You need to organize startup conferences! Such events help gather potential clients, future investors, and people who think in the same way. Startup conferences are not organized only for entertainment. They allow entrepreneurs to share their ideas with the world and get feedback. Indeed, it is more effective than sitting in the office and dreaming about success. Stay with us, and you will learn a lot about the most popular startup events 2022 and the reasons why they drive the business forward.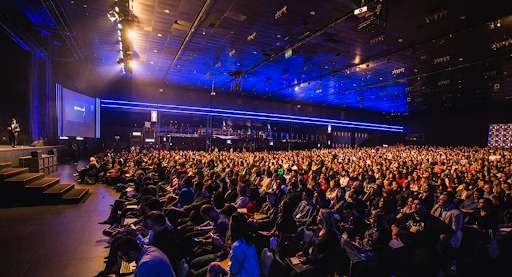 Why Are Startup Conferences So Popular?
As we partly live in an online world, it seems that offline meetings don't make sense. But as you want to grow your business, you need to show yourself. Real-life meetings are more comprehensive and memorable than usual conferences online. And here are some excellent reasons why you should consider organizing startup conferences.
They Attract Clients
The more people you invite to your conference, the more guests will become your clients. It is a great chance to analyze your target audience. You can use some interactive tools to see what your customers need and think about your product. It would help if you impressed participants with your unusual approach to business, and they will make you a free advertisement sharing their emotions with friends and family.  
They Help To Stand Out
Not every starting company can organize startup conferences. It is costly not only in money but also in time. And your conference will not always pay off. Sometimes it's worth doing a few performances to get attention. But it is a great way to express yourself on a large scale. Don't forget to add some elements of the show to your event. Arrange interesting cases for guests, treat them to a delicious dinner or invite them to a party. This will make your event memorable.  
They Draw Potential Investors
Organizing startup conferences attract investors' attention. When young entrepreneurs take such serious steps, it increases the chances of possible future cooperation. When showcasing your product, please don't focus on getting people to buy it. Show people all the benefits of your project and what positive changes it can bring to their lives. It is this quality that attracts modern investors. After all, it is crucial to create a helpful product, not just beneficial to its creators.
They Inspire Both Entrepreneurs And Clients
When planning startup conferences, don't forget to invite well-known influencers to these events. It is essential to arouse guests' interest with inspiring speeches, and it will be helpful not only for the audience but also for you. Performances by famous people can be why people choose to go to your startup conferences. Especially when your project is just beginning, and the world is not entirely familiar with it.
Top 5 Events for Startups in 2022
And now, when you are sure about the importance of startup conferences, you are ready to look at the most popular startup events in 2022. 
Hello Tomorrow Global Summit
This conference got its name from the organization responsible for holding this event, and its name is Hello Tomorrow, you guessed it! The organization considers its primary goal to solve the global problems that the world faces with the help of modern technologies. The organization is actively looking for promising and young startups working to improve the world. Of course, most startups are created by young people. That's why Hello Tomorrow actively collaborates with universities and educational institutions. Here you will find a solution to most of the problems aspiring entrepreneurs face. You do not have to worry about the professionalism of these people, because the organization is very responsible for the selection of all participants, so your project will surely benefit from this event.
Web Summit
Web Summit will be the must-have conference for your startup if you are into technology. This is the most popular event for people who grow their business in technology that helps our planet. Web Summit is famous for honorable guests like Elon Musk and Stephen Hawking. Many world-known companies take part with these geniuses: Google, Huawei, Vogue. But if you worry that such a global event is not like all startup conferences, you will be pleasantly surprised that this doesn't seem right. Web Summit gathers young entrepreneurs with their fresh ideas. If you want to build a new view of the world of technology, Web Summit is the first place you should visit in 2022. 
Collision
This is one of the most famous conferences in North America, and next time, this event will be held in Toronto from June 20 to 23, 2022. The most exciting thing is that organizers will return to holding the event offline the following year. Therefore, you and your employees will have an incredible opportunity to see and even ask your questions to the gurus of the digital world. Every year the most famous companies in the world take part in this conference. But that's not all, since top journalistic publications will attend this event, you will have the opportunity to advertise your product to the whole world. So don't miss your chance to take your startup to the next level. 
Startup Grind
Do not plan anything for the end of February 2022 because Toronto will host one of the largest startup conferences – Startup Grind! This is an incredible chance for young and experienced businessmen to participate in seminars, QA sessions, and discussions held by professionals. Startup Grind invites many investors, and you can find your partner right in Toronto! This educational conference is a mind-blowing field of opportunities and chances to show yourself to the whole world!
Rise
Rise is another event that you cannot miss. It will take place in Hong Kong from 14-17 March 2022. How can this event be valuable? It will bring together not only a large number of startup owners but also investors, so if you have been looking for people who can invest in your project for a long time, this is what you need. Also, since companies from a wide variety of industries will be represented here, you will indeed find something that will interest you and that you can use to improve your business. And for the pleasant addition will be the presence of Forbes – one of the most famous publishers in the field of business, so what are you waiting for, submit an application for participation and who knows, maybe in a couple of years your photo will be on the cover of Forbes.
Conclusion
The most effective way to grow your business is to make as many connections as possible. And those helpful connections are mostly made at startup conferences. Don't be afraid to come up with an idea for the whole world. Business likes desperate people, and you can be one of them!