The calming sound of rushing water has long been a distinguishing characteristic of world-renowned gardens. A fountain not only adds welcome beauty to an outdoor location, but it also produces soothing white noise, which can assist in blocking out the sounds and cares of the outside world.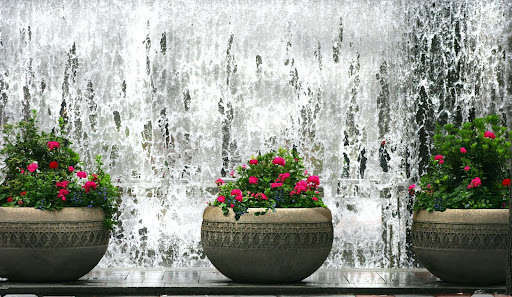 To create a sense of solitude in even the smallest backyard, you don't have to spend a fortune on pricey designs available at home and garden centers. Instead, here are some creative and simple ideas for stunning visitors to your outdoor space with your water fountains for your garden.
Make Use of a Pot
Fill a huge ceramic or concrete planter with water and put it in a basic electric pump to make a near-instantaneous handmade fountain. Place your creation in a low bed of flowering ground cover to add interest to your landscaping, or place it on your deck or patio to enjoy the soothing sound of running water.
Making Use of Creativity
If you have a dusty bowling ball rumbling around in your basement, you have the finishing touch for this ingenious backyard fountain. Although the foundation is made of a sewer pipe piece, any barrel or big planter will suffice.
Oriental-style Fountain
This antique bamboo fountain is used to keep wildlife in Japanese gardens. When the receptacle is filled, it tips over, spilling the contents and generating a loud pounding sound when it hits the granite foundation. The bamboo returns to its original location, ready to be filled again. Even if your yard isn't a favorite hangout for deer, you can enjoy the soothing symphony made by this fountain.
Bygone Era Relics
While it appears that the vintage watering can is persistently forcing water into an old washtub, the can is supplied with water via clear tubing. Move the tubing up and out of the tub and back into the watering can to accomplish this effect. When the water reaches the spout level, it will fall to the lower level and be recirculated in a good loop.
Making Use of Recycled Materials
A repurposed wine barrel may give your landscape a new center point. This one was carefully cleansed and deodorized before being replaced with a store-bought container pump. Consider adding LED fountain lights and water plants to add to the ambiance.
Geyser in Iceland
Are you worried about your kids or dogs slipping into the fountain? A standing pool of water is no longer a hazard with this design. On the other hand, the water appears to vanish into the hard earth. Under the stones, a tub and tank hold 15 gallons of water, and a pump sends a continual stream of water into the air.
Pipes and Timbers
This is a show-stopper! A magnificent fountain was built by one homeowner using reclaimed decking wood, copper plumbing fixtures, and a big plastic storage tub. The pipes that circulate the tub's water are hidden behind the back wall, giving a magnificent backdrop for the cascading drop curtain.
Baths for Birds
This lovely fountain appears delicately poised atop a heap of landscaping pebbles. The stones completely conceal a 15-gallon polyethylene drum. This rehydration station is ideal for feathery friends who live in hot areas because the rocks keep the circulating water cooler than in a regular birdbath.