After the ARM mini-board for LPC2148 is created, it's time to develop a development board. I want to make the board as universal as possible.
So I decided to put I2C, SPI, COM, and JTAG on board. I decided to use an external voltage adapter as there are needed 5V and 3.3V DC sources. For my experiments, I can use those voltages straight from a PC source. 5V there is used to supply MAX232IC. I decided to use it instead of MAX3232 because it is easier to get them in the market. Of course, I left the ability to use and MAX3232 by changing the jumper. All other free pins I made accessible by adding pinheads inboard.
I made 100x100mm double sided PCB
PCB Bottom image
PCB top image (when printing – use mirror function)
And real world images.
PCB Bottom
Completed soldered board with ARM mini board on top.
And, of course, I put Eagle3D traced board images. Best regards to Matthias Weißer from www.matwei.de did a great job doing such work.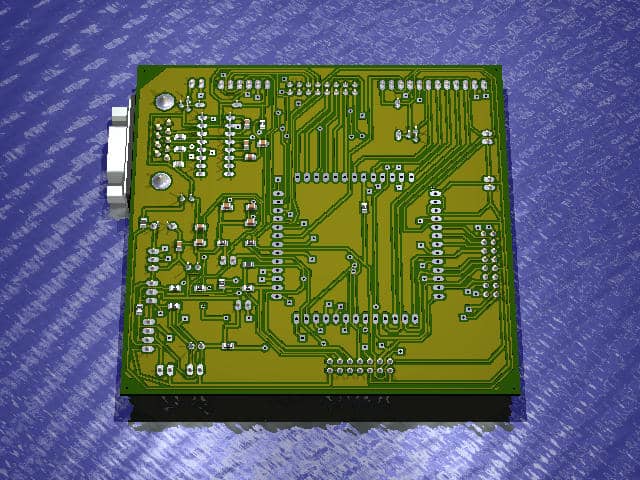 The first read/write tests I run with Philips Flash Utility were successful. Next time I'll post a few articles on how to get this board running by writing C code, compiling, and flashing the ARM7 LPC2148.
Download Eagle files here: lpc2148baseeagle.zip