In the recent past, most teachers and parents wondered how education technology would impact students' learning.
In essence, technology has ushered in fundamental structures that are integral to achieving more significant improvements in both learning and teaching.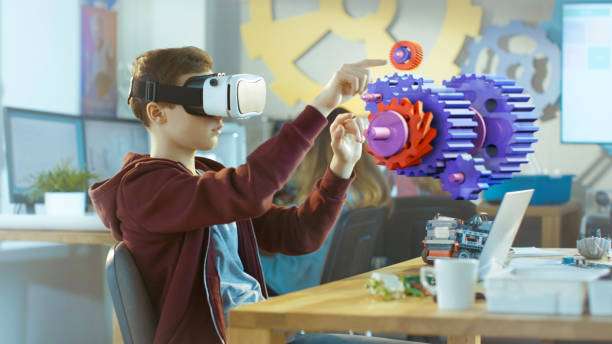 The current classroom has changed significantly, and it is far more different than it did in the past. It houses numerous technologies.
They include laptops, smartphones, interactive flat panel displays, and tablets, all effortlessly connected to wireless technologies, namely Wi-Fi or Bluetooth. Digital whiteboards have also replaced ancient chalkboards.
For the most part, a cynic would see the advancements as a detriment to students. However, the introduction of technology in the classroom impacts and simplifies students' lives tremendously.
Benefits of Technology in Education
Technology has immensely expanded access to education. In the past, only a few elites had access to educational opportunities. Books were rare, and only an elite few could access them. Students had to access schools to get training, but massive amounts of information (texts, images, audio, and videos) are currently accessible at their fingertips.
Learning has also become more interesting, and diverse leading to increased cognitive activities. In the realms of higher education, colleges now offer online degree courses. The far-reaching benefit of this is that tutors can share their knowledge and tutorials via YouTube or blog posts without meeting the students in person, thanks to the internet.
For instance, 48 states in the United States currently support online learning ranging from online classroom instructions to enrolling students in full-time programs. Students can also take core and peripheral subjects supported by online learning materials.
In case you also need some help with your assignments, there are various online sites like Udemy, Chegg, and Peachy Essay among others. However Peachy Essay tops the list of the best academic help and writing services in the world.
Below is a list of institutions that offer full-time online training without attending a brick or a mortar school. All the instructions are received online, and credits are earned through the online school
The Florida online school
Utah electronic high school
Campbell virtual school
Karval online education
Salem- Keizer online
Online Testing
With the emergence of online tutoring comes online testing, as mentioned above. Online testing is enormously helpful in many ways. The test is conducted impartially and truthfully. It is a good resolution for college students who grieve from examination nervousness and are disturbed by taking examinations with a crowd of other students.
Additionally, online exams are more practical for individuals who have tight calendars. Students who find it challenging to be at the testing center at a specified time may also opt-in for online tests altogether.
Social Robots
The invention of social robots is not something that anyone can ignore. These cute and highly impressive robots have not been designed for physical activities but for social interactions. And similar to all robots, they are equipped with artificial intelligence to assist them in navigating the complex world of human beings.
They also act as learning tutors, and not only can they speak and communicate none verbally through gestures, they can also tell jokes. At the same time, they are used mainly to deliver content on various subjects- such as math, science, literature, among others. And just recently, they have been modified to teach the 21st-century skills that are essential for every student.
It is also important to reiterate that social robots cannot replace teachers. In truth, they are meant to offer exceptional opportunities to combine humans and technology within the education system.
Improved Ability to Meet Special Needs
People with special needs also use technology. A rigid classroom defined the world of academia in the past.
All the students had similar experiences regardless of their diverse needs and abilities. However, most students functioned well in this setup, but some faced difficulties.
A school's ability to meet the needs of all types of students has been improved, thanks to technology. Interestingly, students with speaking, hearing, seeing impairments, social, intellectual, and developmental disabilities can receive a quality education from home without facing stigma from their colleagues.
In a nutshell, technology has impacted education for the better, and no matter what a student's needs may be, learning environments that work for everyone are now limitless.
Preparing Students for the Workplace
Technology is used to prepare students for a technology-based world. Numerous people felt scandalized by the introduction of eBooks, podcasts, and video presentations, as print books and classroom lectures were dominant in the academic space. However, it is only sensible to realize that almost every aspect of life nowadays relies on technology.
As soon as students leave high school and college to seek employment opportunities, the jobs will undoubtedly involve technology. So, including multi-functional devices in the classroom is about preparing students for an ever-changing world.
For instance, medical devices are currently used to save lives, and more people are officially leaving the office to work remotely. So, in a world that relies on technology, analog learning cannot equip students for what they will face in the future as adults.
Technology is not just there to supplement the learning process, but students will learn to use it and integrate it into their lives.
In Summary
It is right to say that technology has become an essential tool for tutors and students worldwide. No one can ignore the significance of technology and E-learning. In medieval times, access to education was not accessible to all due to geographical boundaries that made it hard to travel. In short, the use of technology has impacted almost every part of students and everyone. It is on an upward trajectory, and it will continue to revolutionize people's lives for the better.
Read more on how science and technology benefit the diamond industry.