Many people elect to work from home even before the health crisis started. But most people often use the extra table at home and position it in a free corner near a window. They add a chair, possibly a table lamp and a document tray, file folder holders, and some office supplies, and voila, they have a home office setup.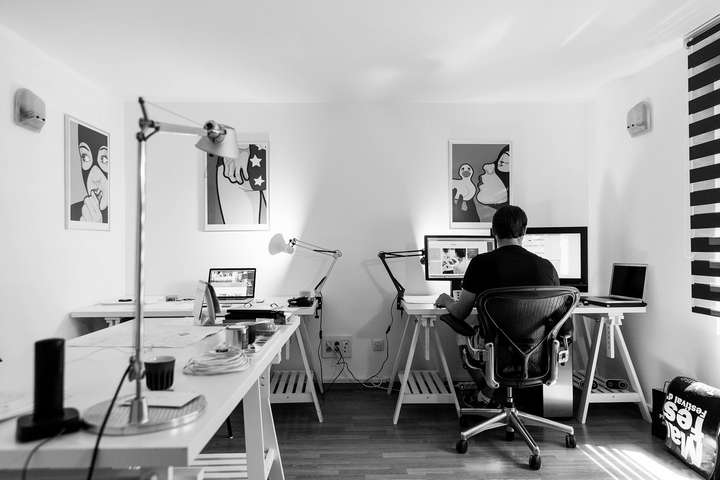 Considering the tips for working from home from experts, it is vital to ensure that home offices should be safe and healthy to work and be injury-free and productive. You can achieve this by choosing ergonomic tools and equipment.
Use the things that you already have
A home table is usually lower than a standard office desk. If you are using a thin laptop and your arms rest on the table at a 90-degree angle, that is fine. But if the table is lower, elevate your laptop by putting it on a flat solid object, like stacks of thick books or a laptop riser. The height of the table should be proportional to your height when you're sitting down.
Choose a chair that will support your lower back. If you do not have an ergonomic office chair yet, support your back with a throw pillow or a rolled-up bath towel. Using a seat cushion helps but ensures that your feet are flat on the floor to support your legs and feet. If not, use a footrest.
What equipment do you need?
The type of work you do will determine the equipment you need for your home office. Choose the equipment to use according to the task that you will do for long hours. Will using a tablet suffice, or do you need a desktop or laptop? Is a single monitor enough, or do you need a large monitor or several monitors? Determine the peripheral equipment as well.
Focus areas for your ergonomic home office
In creating your ergonomic home office, your concern should be on getting the right equipment and how they affect your body.
Neck and head. Prevent injury to your neck and shoulders by keeping your head vertical to your neck to reduce strain. Make sure your eye level is about two to three inches below the top edge of your monitor. Use a laptop riser or raise your monitor to the right level. Likewise, use an ergonomic mouse and external monitor. This link explains what types of mouse that would be durable and useful for your daily needs.
Position of hand and wrist. When you're working, your hands and wrists should be in a neutral position, meaning flush to the table. You can change the height of your chair or table, or move your mouse and keyboard farther or closer to you.
Back support and seated posture. Your seated position should allow you to see the screen while you're sitting back to support your lower back. 
Behavior. Avoid stress and strain by taking short, frequent breaks, standing, walking or stretching. You improve your performance, comfort, and circulation through movement.
With these tips, you can have an ergonomic home office. Experiment with the setup and your tools. Raise some, lower some. Maybe you need to move some things forward or away from you.