The autonomous flying ambulance, nicknamed the Mule, created Rafi Yoeli, who used to work for Boeing and Israeli Aerospace Industries. He later founded his own company, Urban Aeronautics, in Yavne, Israel.
The Mule is the smaller version of another Urban Aeronautics product, the X-Hawk. The former vehicle has been designed to carry injured military personnel (hence the name "flying ambulance") out of combat areas. At the same time, the latter is aimed at urban and personal use.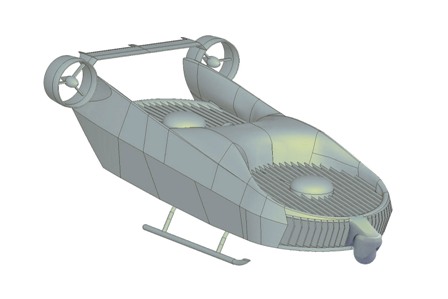 Several of Yoeli's patented inventions are integrated into the Mule, including his VTOL (vertical take-off and landing) vehicle technology and the hybrid drive-powered lift platform. Both the Mule and the X-Hawk, for instance, are classified as VTOL vehicles.
Mule Specifications
The Mule's movement is attributable to two ducted, three-bladed fans: one pair for vertical motion and another pair for horizontal motion. A single Rolls-Royce turbine helicopter engine powers all the fans. The fans are covered to protect them from external damage.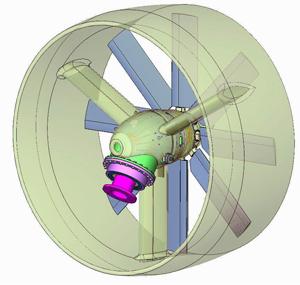 Each Mule unit is expected to cost around one and a half million U.S. dollars. Urban Aeronautics is projecting the first flight for their prototype sometime before 2010.
Applications and Interest for the Mule
The Mule was initially designed for military use on the battlefield. Each Mule is equipped with two pods – one on either side – to carry injured personnel from a normally inaccessible position to helicopters. According to Yoeli, the Mule was designed to fit in and squeeze through the tightest spots, making it optimal for use in urban or jungle scenarios.
Each Mule unit can be located and contacted through a GPS. It will fly towards the marked position at up to 100 miles per hour and then attempt to land on the nearest rooftop. Its fans are also covered to reduce vulnerability to gunfire and other projectiles.
Aside from the military, however, other entities have also expressed commercial interest in the Mule.
Obstacles to the Development of the Mule
The news about the Mule met with some dissent. Some experts in military personnel transport are sceptical of the reliability of ducted fans, which were previously used in failed experiments. Another concern was the lack of medical attention from a human, which could be valuable if the evacuee is in critical condition. This psychological situation of being rescued by an automated vehicle rather than a human proved to be another point against the Mule as the first choice for an evacuation vehicle out of a battlefield.