PDF documents are an essential part of modern-day communication, be it for business or personal use. However, the problem with PDF files is that they are often static and difficult to edit. That's where a PDF editor comes in handy, and SwifDoo PDF Editor is one of the best options available in the market.
SwifDoo PDF is an intuitive and user-friendly tool that allows users to edit PDF documents seamlessly. The software comes loaded with many features that make it easy to create, edit, annotate, and convert PDF documents. In this article, we will review SwifDoo PDF and its features in detail.
User Interface
The user interface is the first thing that users interact with when they start using any software. SwifDoo PDF's user interface is intuitive, sleek, and user-friendly. The software's layout is well-organized, making it easy for users to navigate through the various menus and options.
The software's primary interface features a ribbon-style menu with all the essential features accessible from the top of the screen. The interface is customizable, allowing users to arrange the toolbar according to their preferences. The navigation panel is also easily accessible, providing quick access to the document's pages.
Overall, the user interface of SwifDoo PDF is one of the best in the market, and users will have no difficulty navigating through the software.
Features
SwifDoo PDF Editor comes loaded with features that allow users to create, edit, annotate, and convert PDF documents. Here are some of the features that make SwifDoo PDF stand out.
Editing
One of the primary features of SwifDoo PDF is its editing capabilities. The software allows users to edit PDF documents seamlessly. Users can edit text, images, and other content with ease. The software's editing tools are intuitive and user-friendly, allowing users to make changes quickly.
SwifDoo_PDFis_editing.IMGSwifDoo PDF's editing tools include text editing, image editing, and object editing. Users can add or delete text, change font styles and colors, resize and crop images, and modify objects' properties. The software also allows users to merge or split PDF documents.
Annotation
SwifDoo PDF comes equipped with annotation tools that allow users to add comments, notes, and highlights to PDF documents. The software's annotation tools are intuitive, allowing users to add annotations quickly.
The annotation tools include text highlight, underline, strikethrough, sticky notes, text boxes, and freehand drawing. Users can also add stamps, such as approved or confidential, to the document.
Conversion
SwifDoo PDF allows users to convert PDF documents to other formats, such as Word, Excel, and PowerPoint. The software's conversion tools are intuitive, and the conversion process is quick and seamless.
Users can convert multiple PDF documents simultaneously, making it easy to convert large batches of PDF documents at once.
Protection
SwifDoo PDF comes with security features that allow users to protect their PDF documents. The software's security features include password protection, adding watermarks, and signatures.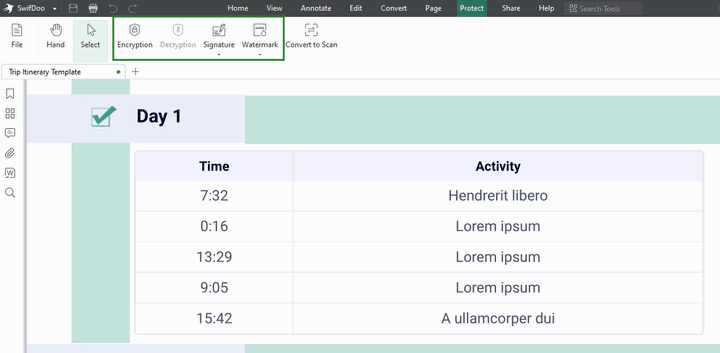 SwifDoo_PDF_security.IMGUsers can password-protect their PDF documents, preventing unauthorized access. The redaction feature allows users to redact sensitive information from the document. The software also allows users to add signatures to documents, ensuring their authenticity.
Performance
SwifDoo PDF is a fast and reliable PDF editor that performs well even with large PDF files. It allows you to open and edit multiple PDF files simultaneously, making it easier to manage multiple projects simultaneously. SwifDoo PDF also supports batch processing, allowing you to edit multiple PDF files simultaneously, saving you time and effort.
Another great feature of SwifDoo PDF is its ability to perform optical character recognition (OCR) on scanned documents. OCR is the process of converting scanned documents into searchable and editable text. This feature is handy for users who need to work with scanned documents, such as invoices or contracts, and want to convert them into editable text.
Conclusion
SwifDoo PDF is an excellent choice for users who need a versatile and user-friendly PDF editor. It offers a wide range of features and tools that make it easy to create, edit, and annotate PDF files. Its user interface is intuitive and easy to use, making it an excellent option for beginners and experienced users alike. SwifDoo PDF's OCR feature and the ability to convert PDF files to other formats make it an all-in-one PDF tool that is definitely worth considering.