If you are running an application on the web, one of the first things you need to ensure is the safety of your database. But if in an unfortunate event some of the files in your database get damaged or corrupted, there are some tools that are designed to help you recover these files.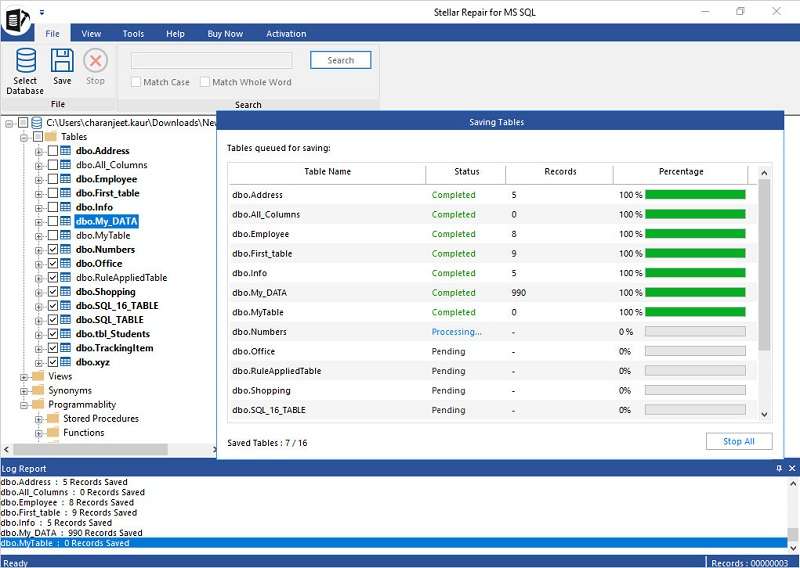 Stellar is one of the most reliable tools for recovering database files in your MS SQL database. In this article, we will share everything you need to know about Stellar, including its features, benefits, pricing, and the ideal use cases this tool was designed. Let's dive in right away.
About Stellar Repair for MS SQL
Stellar SQL database recovery tool designed to repair and recover corrupt or damaged files on any MS SQL database. Some of the database objects that can be recovered using Stellar include tables, triggers, indexes, stored procedures, and many more. Stellar also repair these files in the shorted time possible, hence reducing the downtime of your database activities.
The beauty about Stellar is the fact that it repairs and restores all the damaged files without deleting or modifying the original data. So, you will be able to get all the lost files in their original format without losing anything. Even files that seem to be irreparable can be fixed with the database repair tool.
Minimum requirements for installing Stellar
Before you install this tool to recover your lost database files, make sure your computer meets the following hardware and software requirements.
The CPU should be intel-based (X86 or X64)
At least 16Gb of RAM. However, for the best performance, we recommend having 32Gb of RAM.
The installation files need at least 250MBs, so make sure you have more than this free space on your computer before installing Stellar.
The supported operating systems include Windows Server 2019 / 2016 / 2012 / 2008 / 2003 and Windows 10 / 8.1 / 8 / 7.
The supported MS SQL Server versions are MS SQL Server 2019, MS SQL Server 2017, MS SQL Server 2016, MS SQL Server 2014, MS SQL Server 2012, MS SQL Server 2008 R2, 2008, 2008 (64 bit), 2008 Express, MS SQL Server 2005, 2005 (64 bit), 2005 Express, MS SQL Server 2000, 2000 (64 bit), 7.0 and mixed formats.
Features
Some of the key features that you will likely take advantage of include;
Recovers all sorts of SQL Database Objects: Stellar can recover several database objects, including Tables, Keys, Indexes, Views, Triggers, Stored Procedures, Rules, User Defined Functions, and more
Recover deleted records from the database: This tool can also be used to recover deleted records from a database table that has been damaged or corrupt.
Parallel processing enables fast data recovery: Stellar can process and save up to 8 tables all at once during the recovery process. This will save you a lot of time.
Recovers ROW and PAGE compressed Data: This tool can also be used to recover SQL tables with PAGE and ROW compression.
Preview the recoverable files: After scanning the database, Stellar allows users to preview the recoverable files. This allows us to see all the files that can be recovered before going ahead to recover them.
Several saving options: After recovering the lost files, Stellar gives you multiple saving options, including saving the data into a new or live database. You also save this data in several other file formats such as CSV, HTML, and XLS.
Selective file recovery: On top allowing you to preview the recoverable files, Stellar also gives you the option to choose which files you would love to recover. This can save a lot of time that could have otherwise been wasted recovering unnecessary files.
Find more thorough information on the stellar manual.
Use cases
Stellar has three major use cases; these include;
1. Restoring database from suspect mode
The database usually goes into suspect mode due to an SQL server crash in the middle of a transaction, abrupt database termination, lack of disk space, and several other technical failures that could happen to your database. A database that is in this mode is not accessible. You can only access the database only after it has been restored to its normal state.
The Stellar SQL recovery tool is one of the tools you can use to recover your database from suspect mode back to the normal mode. This tool will recover your database from suspect mode without losing any files in the process.
2. Extracting data from a corrupt backup file
A database backup is what you will use in case your database runs into issues that could lead to the loss or damage of some files. But if your database backup (.bak) file is also damaged, you won't have a chance of restoring your database using that file. However, you can use the Stellar Repair for MS SQL Technician edition recovers all the data from your corrupted backup file.
Once the files in your backup are recovered, you now go ahead and restore your database to normal using this backup file.
3. Fixing all types of corruption errors
There is a built-in utility (DBCC CHECKDB) in the Microsoft SQL Server that can be used to fix corruption errors and restore the database. However, running this command may at times lead to data loss. This utility is also not ideal for fixing severely corrupt SQL database files.
In this kind of scenario using Stellar Repair for MS SQL is the best alternative as it leads to no data losses and also fixes severely corrupt SQL database files.
Pricing
Stellar Repair for MS SQL has three pricing packages that you can choose from based on the number of users you intend to give this tool to. They have the corporate package at $299, Technician at $399, and Toolkit at $499. Below are some of the key features you will get for each of these packages.