No economy can grow without reliable infrastructure, and for developing nations with limited resources, the challenge to provide this is immense. Not only is cost a massive factor, but with growing concern over climate change and environmental degradation, there's even more pressure to deliver infrastructure that is also more sustainable. From reliable roads to affordable housing, here we explore some of the technologies that show the most significant promise in addressing the needs of the developing world without compromising on quality or negatively impacting the environment.
Geocell Technology – Building durable, low-cost, permanent access roads in South Sudan
As one of the least developed countries in the world and with a mounting food crisis, South Sudan was in desperate need of a reliable road network that would allow aid to reach those in need while also helping local farmers and businesses access markets and start to grow the economy.  
In an ambitious project, the United Nations Office of Project Services (or UNOPS) undertook to build 225 kilometers of roads in four regions of the country. Aside from a tumultuous political climate, additional challenges to the project included a lack of locally available quality aggregate and a poor subgrade which would make meeting the high traffic loads required of the roads tricky. They needed a solution that would make installing these roads not just faster and cheaper but would also guarantee their long-term performance.
The solution was geocells – a honeycomb matrix made from an innovative polymeric alloy called Neoloy. Delivered to site folded, opened, and then filled in with locally available granular materials, geocells create what is known as a cellular confinement system. This creates a stable layer or 'mattress', which is ideal for low-cost yet incredibly durable road construction.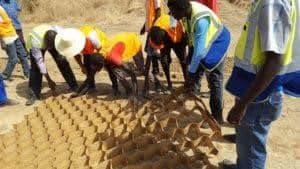 The beauty of this technology was that it allowed permanent roads to be constructed almost entirely from sand – one resource that South Sudan has in abundance. These roads were quite literally a lifeline for the developing nation. In addition, they achieved a 50% cost reduction compared to a conventional road design and reduced construction time by 35% at the same time while managing to achieve sustainable objectives.
Making use of waste tires for affordable housing
The immense scale of the global automotive industry has created a significant challenge in dealing with discarded vehicle tires. In the United States alone, this figure equates to over 300 million tires each year. Burning waste tires is problematic, as this process releases toxic fumes that pollute the air and can contaminate soil and water. But what if these discarded tires could be repurposed altogether?
Often referred to as 'Earthships,' homes constructed from tires packed full of rammed earth are remarkably energy efficient and make use of a resource that would otherwise simply end up going to landfill. Because of their rigid shape, each tire essentially becomes a large brick that stores warmth during the winter months and reduces heat penetration during summer.  They lend themselves especially well to off-grid applications, and because little building knowledge is required to construct them, they could have genuine potential in developing nations.
Green Infrastructure – using natural systems to complement traditional infrastructure in informal settlements 
The lack of affordable housing in many developing nations has led to large areas being given over to informal settlements. Because the residents who construct these dwellings have little access to building knowledge or appropriate resources, there are frequently actual health and safety concerns associated with them. Developing countries rarely have the funds needed to revamp these areas entirely, but a surprising number of issues can be addressed by turning to nature for a helping hand.
One such example is in the informal settlement of Diepsloot in South Africa. Inadequate stormwater infrastructure frequently leads to flooding, erosion, and health risks due to areas of standing water. Community-based organization Wassup in partnership with local universities, came up with an innovative -and quite literally green- solution. Soak-away gardens placed in strategic locations and planted by local residents not only help to absorb excess surface water but improve quality of life and aesthetic appeal too.
On a larger scale, 'constructed wetlands' can be used to reduce the cost of water treatment in developing nations. Also, in South Africa, the uMngeni Ecological Infrastructure Partnership from KwaZulu Natal is working to improve the health of ecological systems in the uMgeni River catchment by doing just this. These kinds of solutions are an excellent example of how infrastructure can be made more affordable and more environmentally sustainable at the same time, empowering developing nations.
Whether the answer lies in cutting-edge technologies like geocell engineering or in taking a leaf from nature's more ancient book, providing infrastructure for developing nations definitely doesn't have to cost the earth.