Firmware for AduC70xx ARM microcontrollers can be uploaded using a built-in boot-loader. To work with boot-loader, Analog Devices offer a small free program, ARMWSD working under the windows system. The program doesn't require installation. ARMED communicates with AduC70xx via COM-port. Simple programming steps looks like this:
Connect target board to PC COM port;
Go to Configure->Parts and select AduC part:
Then go to Configure->Comms and select serial port and baud rate:
Select other settings if needed (Mass erase, Program, Verify, Protect) in Configure->Flash menu;
Press OK to get to the main window again. Browse for hex file – only hex files are supported in this program. When you are set, then press the Start button – The program starts waiting for boot-loader action:
Now you have to start boot-loader on your target board. As you know, entering boot-loader needs some procedure to be done. Manually you have to press the button "Download" connected to the BM pin, then power on board and rapidly press and release the "Reset" button and then release the "Download" button; after this, AduC70xx enters boot-loading mode and downloads the hex file.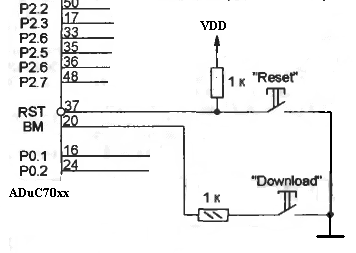 Program is simple but it does the job.