PCBgogo is one of the most well-known PCB manufacturers in all of China. Founded in 2015, PCBgogo has its headquarters situated in Hangzhou, China, and aims to be the easiest printed circuit board manufacturers to do business with.
A bit about PCBGOGO
PCBGOGO are well known for their small and medium volume PCB fabrication and PCB assembly and PCB prototype. Previously PCBGOGO owned three factories spanning over 17,000 square meters and have achieved ISO 9001 certification, UL certification, and 2015 quality management system committing to rigorous standards of assembly and manufacturing.
PCBGOGO has proudly been a part of over $50 million business of prototyping services and electronic components to more than 300,000 customers all over the globe.
PCBGOGO is known to prefer long-term business cooperation, and their COO, Mr. Eric wu, has said on record that if there is a problem with the PCB assembly or quality that can't be solved, a full refund will be due to the customer. PCBGOGO prides itself on the following 6 key points which differentiate them from its competitors.
Instant online quote: PCBGOGO has an easy to understand price structure with no hidden costs
PCB Build time: Apart from the 12 to 24-hour express service which is usually preferred in the case of the urgent demand for PCBs, the usual build time is 2 to 3 days which is one of the quickest times you can get in this market.
Turn-Key: PCBGOGO offers high-quality PCB assembly service and PCB prototype with low costs and the minimum order that can be placed is of 5 pieces.
Shipping: PCBGOGO has affiliations with several different shipping companies and offers its clients to choose from the likes of UPS, FedEx, HK post, DHL, and EMS.
Quality Assurance: PCBGOGO is UL and ISO 9001:2015 quality management systems certified and all the circuits undergo proper testing before being shipped.
Online Portal: PCBGOGO has a very easy-to-use online portal where you can track the assembly status of your order and are constantly updated regarding its manufacturing and shipping process.
PCBGOGO Factory Relocation
PCBGOGO has recently served up to 300,000 clients from all over the globe since it was founded about 6 years ago. Due to the ever-growing demand for its products and a huge clientele, the company has moved one SMT (surface mount technology) factory and two PCB factories to Longwangmiao Industrial Zone, Baoan District, Shenzhen. Their respective offices have been operational in this region since May.
The locations of the offices and the factories are taken into consideration before making this move. Being close to each other ensures constant and efficient communication among the engineers, the production workers, and the sales team. This dynamic type with easy communication helps PCBGOGO perform a better job in delivering what its clients want.
Another important thing about the new location is that it is near the Baoan Airport, almost 8 miles away. This provides a good means for receiving material and dispatching completed goods with haste to reach the customers in plausible time frames.
PCBgogo claims that after this relocation, their express service will be delivered within 12 to 24 hours in urgent projects, and their normal build time will reduce to 2 to 3 days. Due to having multiple factories and one specifically SMT (surface mount technology), PCBgogo can ensure good quality control. Due to improved production capacity and having a port in the proximity, their deliveries are more efficient. These new changes will help PCBgogo maintain its motto of providing top-class PCB and PCB assembly services. Due to the relocation, PCBgogo is facing some delays, which are expected to be sorted out as soon as everything is up and running. By the time you are reading this post, the factories are already established and back to normal operations.
The New Facilities Installed
PCBgogo already had many hi-tech facilities that are continuing to operate. Also, they are constantly upgrading with new ones that improve the speed and quality of production. They are proudly showcasing its new facilities with a brief introduction is below.
AOI
AOI or automated optical inspection is the inspection method used by PCBgogo. The AOI uses high-resolution systems and cameras with various light sources like infrared, LED, fluorescence, and UV for capturing image arrays. These images are processed to find any anomalies by the engineers.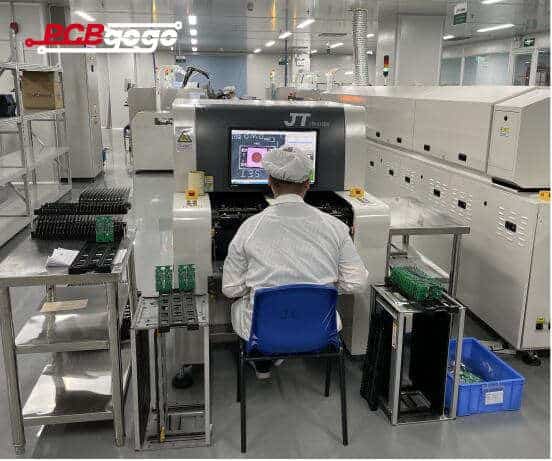 Drilling Machine
The PCB is usually drilled with small diameter tungsten carbide drill bits. Tungsten carbide is the choice because mostly the material of the board is abrasive and hence drilling has to be done at high RPM and high feed to reduce cost.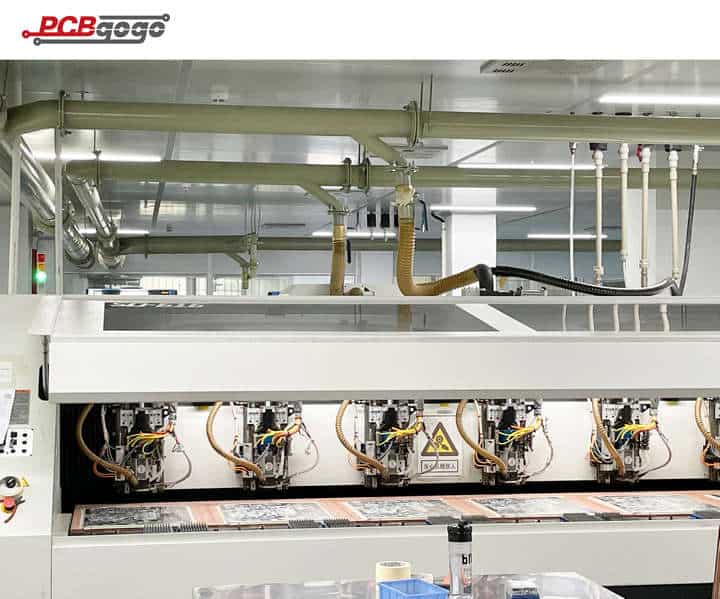 Flying Probe Test
Flying probe test is a test where we avoid a unique "bed of nails," a custom fixture for a PCB assembly for accessing all required nodes. Rather via software control, the system uses generic board fixtures to move one or more probes across the board, resulting in us accessing individual nodes.
Reflow oven
The most widely used soldering method in PCB assembly is Reflow soldering. This is an easy to control method which works well with all kinds of pads and sizes of components. The whole reason for reflow soldering is to provide good soldering joints with preheating the solder paste first and then melting the solder, which ensures no damage occurs during overheating. To ensure smooth operation, they use repairing an industrial oven services.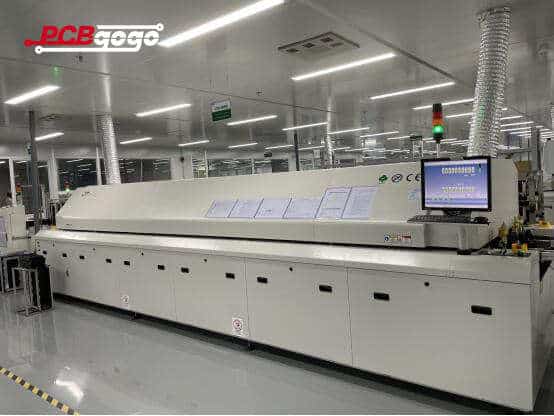 Solder Paste Printer
Another widely used technology in SMT factories is the solder paste printer which is essential in PCB assembly. The Solder paste printer provides a viable medium for the solder; this solder paste can be used in prototype production and large-scale PCB assembly.
Yamaha's Pick and Place
Yamaha's Pick and place machine is an important part of any SMT&assembly production line, and it is known for its efficient and accurate SMD mounting at high speeds. It comes with an easy use pick-and-place programming software.
In conclusion
It can be seen that PCBgogo puts a close eye towards increasing its efficiency by both using the latest machinery and management techniques. Maybe this is why they are one of the best if not the best PCB manufacturers and PCB assembly service providers in the market. Check out more about new PCBGOGO facilities here.