Virtual reality has taken on a new meaning in the past year and a quarter when people have become more distant than ever. VR is a promising future technology, but for now, it is a unique feature in many people's tech lives. VR is still not a popular place to meet or work. It has become a great spot for gaming. Oculus Quest 2, a great home VR console, has been a favorite place to play VR games. VR technology is constantly evolving, and VR is still in flux. The philosophies behind the headsets are also changing. 
Read More: https://litslink.com/blog/web-vr-technologies-react-360-vs-a-frame-and-threejs.
We still recommend the Quest 2, especially since it has 128GB storage on the $299 model.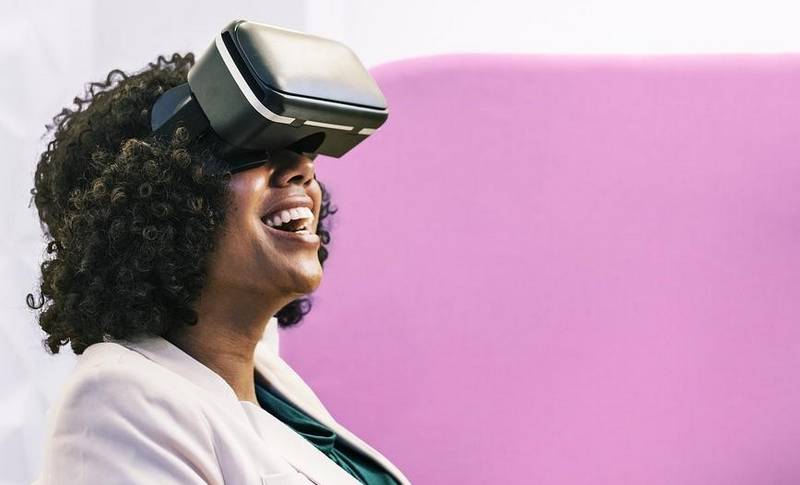 VR tech is in a bit of a lull right now. This means that it's probably safe to buy. Oculus Quest Pro and PlayStation VR 2 are in development, but they shouldn't be available this year. We will tell you what to watch out for when purchasing a headset and give our recommendations of the top VR headsets available.
1- Oculus Quest 2
Oculus Rift is the pioneer of the current wave in VR. Oculus remains a significant player in this category. Oculus has decided to discontinue the Rift S, its dedicated, tethered VR headset. Instead, it will be focusing on Quest 2. However, this does not mean that you won't be able to enjoy PC VR with the company's new headset. You will need an accessory cable.
Oculus Quest 2, a standalone VR headset that costs $300, is powered by the Qualcomm Snapdragon-865 chipset. This chipset represents a significant upgrade over the original Quest's Snapdragon 835 chipset. The headset offers VR in one package, with no wires required (except to charge it). It currently has the highest resolution consumer VR headset at 1,920 x 1,832 per eye. Two motion controls allow for 6DOF head and hand motion tracking. There is also an impressive library of VR software available in the onboard store.
However, you can still enjoy tethered VR using the Quest 2. Oculus Link Cable, which costs $79, is a five-meter USB-C extension cable that connects the Quest 2 and your PC. Like the tethered Rift S, it can be used to access VR-specific games such as Half-Life: Alyx. Although the cable is more expensive than the original Quest 2, the Quest 2 still has a higher value, even with the accessory.
2- Valve Index
The Valve Index VR headset is a PC-tethered VR headset. It's one of the most expensive. The entire package costs $999, excluding the computer. Even though the Index has a 120Hz refresh rate, it isn't easy to swallow. There is also an experimental 144Hz mode. The Valve Index is our current favorite VR headset.
The headset is not very impressive, but the controllers are. They can detect individual finger movements and make games that take advantage of them much more immersive than other controllers' trigger grips. This headset is a marvelous piece of technology that we are happy to recommend. 
Another benefit is the Index's faster refresh rate, which makes it smoother. You can purchase the controllers only for $280 if you have an HTC Vive, Vive Cosmos Elite, or their base stations (not regular Cosmos) to bring new life to your VR experience.
3- HTC Vive Pro 2
The HTC Vive Pro 2 headset is for you if you are looking for the best VR experience. The HTC Vive Pro 2 PC VR headset is a high-end PC VR headset that targets professionals and enthusiasts alike. It boasts the sharpest images at 2,448 x 2,448 pixels per ear. This headset offers some of the most stunning VR visuals we have seen. The headset is also quite expensive at $799. It would help if you still had the controllers and base stations. However, the good news is that you can use the Valve Index controllers.
Vive Pro 2 and Vive Cosmos 2 work with SteamVR, just like Oculus Quest 2. Viveport also has its own VR software store called Viveport.
4- HTC Vive Cosmos
HTC's Vive Cosmos, an upgraded version of its original Vive and a more affordable VR option, is HTC's Vive Cosmos. This comprehensive package is ideal for whole-room virtual reality and costs only $699.
5- Sony PlayStation VR
Sony's backing of the PlayStation VR project and its affordability and accessibility compared to gaming PCs make it compelling.  PSVR is compatible with the PlayStation 5, but you will need to request an adapter from Sony to allow the PlayStation Camera to function.
PS VR has many great games like Rez Infinite and Until Dawn: Rush of Blood. Five Nights at Freddie's Help Wanted is one example of many excellent PS VR games. Many PlayStation VR games can be used with the DualShock 4.  The PlayStation VR's motion controls are the problem. It still uses the PlayStation Move wands of the PlayStation 3 era, and they aren't as comfortable or as efficient as Oculus Touch controllers. These controllers are also costly and not included in all PlayStation VR bundles.
Sony is developing a new PlayStation VR system, with redesigned controllers. Although the headset is not yet revealed, the company released a preview of its new controllers.
6- Windows Mixed Reality
Microsoft has been pushing its partnership with headset manufacturers to create a series of Windows 10-ready "mixed realities" headsets over the past few years. Although the distinction between mixed reality and virtual reality is not clear, it suggests that the helmet will incorporate augmented reality (AR). The headsets that we tested were both sound and simple.
However, position tracking isn't as precise as external sensors or the Quest 2 with outside-facing tracking cameras. The Windows Mixed Reality store does not offer as many VR experiences as SteamVR and Rift, but you can still use SteamVR games with Windows Mixed Reality headsets.