A personal computer – a PC, is one of the most versatile tools you can have in your home to keep it short. Although it has no specific destination, as many other devices built to do something, it can be used in various ways.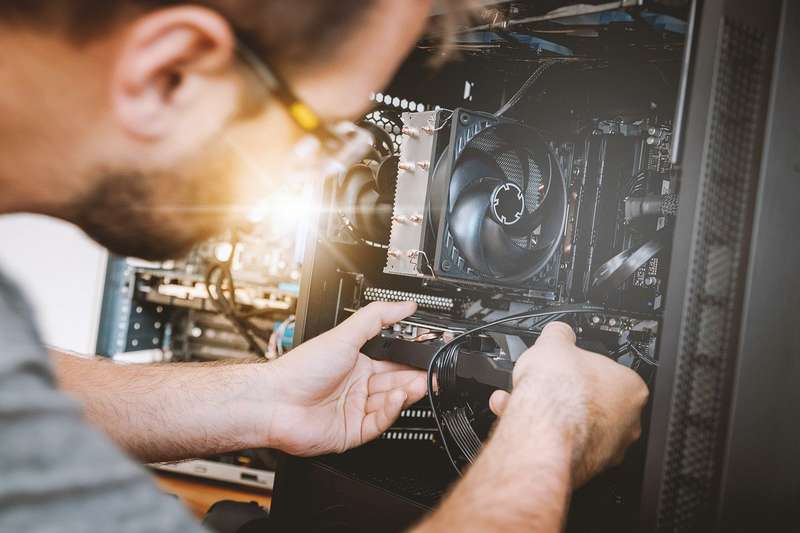 You can use your PC as a gaming device to play online games at Euro Palace. The gaming outlet offers you a wide range of over 700 titles to try free or play for real and win real cash by downloading the free casino suite from their website. Euro Palace also offers its new and existing players the most varied promotions, from free cash to dream vacations and even the chance to win a Caribbean cruise. But all that fades besides the biggest prize a player can win over there – a jackpot worth over $8 million. A topic I'm going to discuss at a different time.
You can use your PC as a media player for audio and video, and you can use it to process your photos and videos, to keep in touch with friends and relatives, to work – in short, for everything that involves data processing in one way or another. But this is hardly any news for you.
There are two ways for a user to get a new PC – either buying a ready-made configuration provided by a branded manufacturer (such as Apple, Asus, Dell, or HP, to name just a few) or building one from scratch. I often have trouble deciding which of these solutions is better. In the first case, you get a PC that works from day one, but its price is usually higher and leaves you with not much choice for its hardware configuration or the software that runs on it. A PC built from scratch is usually cheaper and a more flexible solution – but to build a robust configuration, you will need a considerable budget, knowledge about hardware, and quite a bit of research. But the result can be much more satisfactory.
If you have a limited budget for a new PC built at home, you will need to make a series of tough decisions on the components to choose. Let's take a look at essential components of a PC and see where you can make amends and where you should not.
1. Mainboard
As its name suggests, this is one of the essential components of the PC, on which you build the whole thing. When choosing a mainboard for your computer, you should choose one capable of supporting a wide range of processors, lots of RAM, and enough extension cards for your future use. This is one of the components you should not make amends about.
2. Processor
This is one of the components where you can invest in a cheaper version and switch it to a stronger one after you further consolidate your budget. Still, it would help if you didn't buy the cheapest variant you find – it's cheap for a reason. Choose a balanced option – cheap enough to fit your budget and powerful enough for your needs.
3. Storage, optical storage
Ideally, it would help if you chose an SSD as your system drive and a larger traditional hard disk for data storage. Today's mainboards can use quite a few storage devices, so you can later mount multiple hard drives in your PC when you gather the funds to buy one.
When it comes to optical storage, you should only invest in one if you have a CD or DVD collection; otherwise, USB drives are the better option. I, for one, haven't used my DVD-writer for ages.
4. Video card
It depends. Even the most basic video cards are fit for handling everyday social media, internet browsing and office applications, but the latest games need a powerful (and expensive) GPU. Think of what you plan to use your computer for, and choose depending on your needs.
5. Chassis and power supply
When it comes to the chassis, think of where you will keep your computer. Mine is hidden under my desk, so there is no use in it being visually appealing – and most computers are in a similar situation.
When choosing a power supply, do your math: calculate the approximate power consumption of your PC components and add at least 50% on top. Choose a power supply that can provide a sustained level of power for your needs and consider the possible future upgrades you might make.
6. RAM
You should not make amends here, as memory tends to be dirt cheap today.
7. Peripherals
Only buy a printer if you really need to. If you are buying a PC on a tight budget, choose a cheap but decent keyboard and mouse – you will have the choice to buy a new one later. Add a pair of primary speakers and a headset to the total.
8. Monitor
Once again, take into account how you plan to use your computer. A smaller screen is great for everyday use but might not serve you well when watching movies and working in design.
9. Software
This is where you can save a severe amount. You might want to choose Linux for everyday home use, which is an entirely free and community-supported operating system. It is perfect for browsing the web, social media, and multimedia, but it is pretty limited when it comes to gaming. If you plan to use your PC for gaming, you might want to invest in a Windows operating system, as most games are released for it.