Sometimes human error, viral attacks and other digital snafus can cause our stored photographs to become lost to us. As soon as you realize what's missing, it can incite some panic. Our most important moments are commemorated via photography, as we typically intend to hold onto these cherished images for many years to come. When they are suddenly and unintentionally gone, your first concern will be photo recovery.
If you've never had to recover deleted pictures before, you might not know where to start. All you do know is that getting these pictures back is essential to you. If you have found yourself in this situation, read on to learn how you may easily and quickly recover the photographs that you feared were gone forever.
This article will teach you the ins and outs of photo recovery and data recovery with RecoverIt, a free software option for restoring lost data.
Step One: Download RecoverIt
RecoverIt is among the Top 5 Free Photo Recovery Software, and it specializes in pulling up lost or deleted photos from any area of your computer, including external storage units that are attached to the computer. RecoverIt can find lost, deleted, and formatted items on any computer and any attached device, regardless of the graphic format. This software is also handy at recovering text documents. It works on both Mac and Windows PCs and laptops.
Step Two: Run the .exe File
The application will launch. Click "install" to begin the installation of RecoverIt photo recovery software. This could take some time, so be patient.
Step Three: Let the Software Launch
This should happen automatically, presenting you with a screen that looks like this:
Select "Deleted Files Recovery."
Step Four: Let RecoverIt Search for Files
Again, you may need patience as the software searches your computer and attached storage hardware for files. When the scan is done, RecoverIt will alert you. Click OK.
Step Five: Select Your File Type
Because RecoverIt can be used to recover all kinds of files, you need to select the type you are searching for. Otherwise, the application will pull up everything, which is a huge time drain. Click on "files view" and then select "Photos."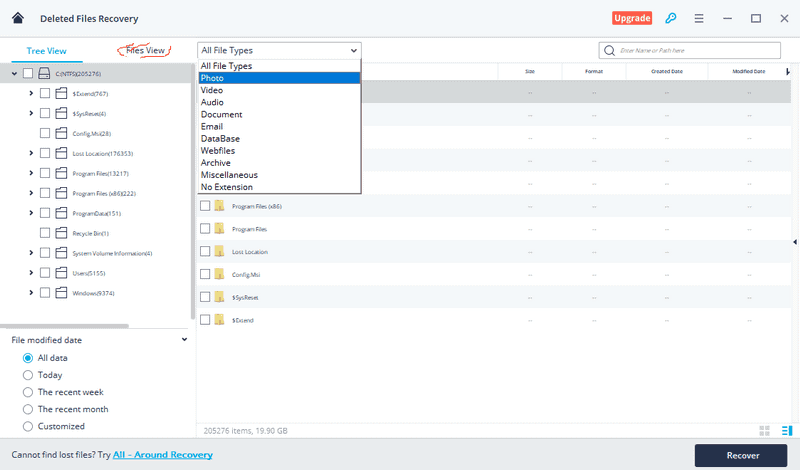 Step Six: Select "Recover"
This will pull up all of the images that are available to be recovered. Select "Recover" again, and all of these files will be restored.
It can be tricky to try and restore lost and deleted photographs on your own, but fortunately, there is this excellent software program available for you to use – free of charge! This application simplifies the process so that you spend less time stressing about your unrecovered photos.
This Wondershare product is the best data recovery package, but it is not the only one on the market. Don't assume that accidental deletion means that your photos are gone forever. There are ways to restore deleted photos, with RecoverIt software being the most accessible option of all.