Find something to keep you and your family members busy as you wait for your flight. You can have a nice meal at the onsite restaurant, grab an ice cream, tour shops, or take your favorite drink at the bar. How about your young children, especially during long layovers, flight delays, or long-haul flights?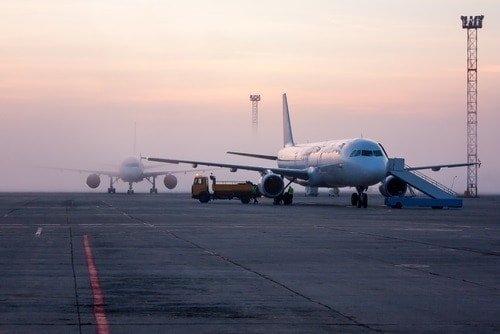 For kids, their airport activities may involve crying, trying to run around, or whining over the long waiting. Gadgets loaded with kid-friendly games, movies, and fresh toys can come a long way to keep kids entertained in the airport before your next flight. Here is a list of what needs to be done to keep kids occupied while waiting for your flight to take off:
1. Look for a Kid-friendly Play Area
Most airports feature kid-friendly play areas to help both young and older kids entertained while waiting for flights to their next destination. In this sense, you may allow your little flyers to jump around and burn off extra energy to kill some boredom.
However, confirm with your airport of choice to know if it has onsite kid-friendly amenities before booking flights for family travel. A good example of an airport with such facilities is Chicago's O'Hare International Airport which features airport-themed toys for children among other things.
2. Encourage Them to Play I spy
This is one of the best airport games that can keep kids busy and relaxed at the airport. Playing I spy games can potentially pre-occupy your young children. It can also take up most of their time and give you peace of mind as you wait for the flight.
3. Visit the Food Court
Take advantage of flight delays to tour and sample different delicacies in the airport's food court. If need be, install apps on your smartphone to help you find your way around the airport. Take a brief tour of different restaurants to enjoy the main course, try a new dessert, or take your favorite cup of coffee.
4. Watch the Airplanes
If it is your first time traveling with your kids, you can take them to have a glimpse of the airplanes landing or taking off. This can be an exciting aviation adventure for kids during your family travel.
5. Try Out a Scavenger Hunt
An airport scavenger hunt should be on your travel tips every time you plan to fly your family to another city. A paper, a pen, and your kids are all that you need to make the airport scavenger hunt a success. Make sure to prepare for this fun activity in advance before you embark on a road trip to your airport.
6. Consider the Diaper Change Before the Flight
If you are traveling with infants or toddlers, diapers should come in handy. Take advantage of long layovers to do diaper changes prior to boarding a plane. This may also be the best time to reorganize everything in your carry-on luggage after going through the security check.
7. Do Some Coloring
Save for restaurants, airport games, and card games by bringing along wipe-off tracing and coloring books with crayons. Even your four-year-old will get busy coloring and wiping off as time elapses. The wipe-off feature is amazing as it makes the tracing book look like a new book to your young kids after every wipe-off.
8. Turn to the iPad
If you find yourself faced with whining and restless kids at the airport, don't hesitate to give them your iPad. At least they will access fun games, Disney movies, and animations for their immersive entertainment. If you don't have a tablet, iPad, or smartphone, you may opt for a complimentary airport tablet including free airport perks and TV shows. However, you should control the screen time when handing over your tablet to keep your kids busy at the airport.
9. Walk Around
Allow your toddlers to toddle back and forth along the airport's terminal concourse. Help them explore all around there to their heart's desire to make them get carried away throughout until the boarding time. If you can grab a drink from the nearby restaurant or cafe, you can casually sip it while watching your little one take a walk on the moving walkways, escalators, and food courts.
10. Have a Look at the Airport Exhibits
Most airports feature family-friendly art exhibitions year-round and amazing content on digital signage. For example, there is a fun exhibit featuring antique coin-operated machines and one for dispensing perfume at San Francisco Airport. Seattle Tacoma International Airport also boasts excellent plane spotting while Phoenix Sky Harbor Airport displays rotating exhibitions of artworks located in the passenger terminals. All these exhibitions are family-friendly.
Final Thought
Whether you are planning to have a weekend getaway far from your city or traveling for pleasure with your family, knowing how to keep kids entertained is essential. This skill will enable you to have an easy time with your little one during the long layovers. With that in mind, take advantage of the above tips to have a comfortable and peaceful wait for your next flight in family-friendly international airports.