PDF can be considered one of this century's most acceptable and useful file formats because of its integrity and stability. However, there may be situations when we need to convert a PDF to another format, such as JPG. As a result, there may be concerns such as how to convert PDF to JPG on Windows 10.
Suppose you have no third-party PDF programs to display your PDF, or you need to incorporate a PDF in your online post. In that case, it is convenient and friendly to use a professional PDF to JPG converter to convert a PDF into a high-quality JPG.
PDF to JPG conversion is a must-have feature for most PDF products, so in this post, I will show you the free PDF to JPG converters to change PDF to JPG on Windows 10.
How to convert PDF to JPG Online
Everyone who turns to a professional PDF converter wants to greatly improve his/her working efficiency, and SwifDoo PDF is a good choice. As for file conversion, it now supports converting PDF to JPG (JPEG), BMP, TIF, and PNG, with different resolution options available. SwifDoo PDF recently rolled out an online converter to make file conversions much easier. See how to convert PDF to JPG online and on Windows.
Online Version
Step 1: Navigate to the SwifDoo PDF Online PDF to JPG Converter, then click on the PDF to Image button;
Step 2: Select Choose file to upload the PDF file;
Step 3: When ready, hit the Download button to save your JPG locally.
Isn't it easy to use? Like other web-based PDF to JPG converters, SwifDoo PDF provides every user with two free daily tasks. Sharing this page with other social platforms or bookmarking the online converter can gain an extra free task.
How to convert PDF to JPG with Windows Version
SwifDoo PDF has a Windows version, a competitive PDF product on the market. Thanks to its functionality, Windows users can count on this converter to change PDF to JPG in a few clicks.
Let's see how to open a PDF using MS Paint with a few clicks:
Step 1: Download SwifDoo PDF at the official website and install it on your PC;
Step 2: Open or upload your file from the local folder;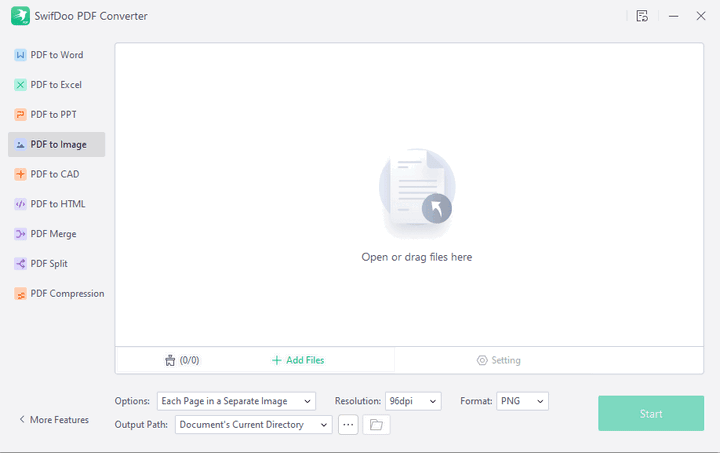 Step 3: Click PDF to Image in the tab Convert;
Step 4: Press the Start button;
Step 5: Open the newly created JPG in Paint.
When you need to extract selected pages in a single document, don't forget to tick "Selected Pages in an Image File." If you are required to convert a PDF with too many pages, then the exported JPG file will be presented in a long picture with relatively lower quality (up to 96 dpi). In addition, if you need to open a PDF in Paint, you first need to export this PDF into a format supported by MS Paint.
Pros:
Longer free trial: SwifDoo PDF now provides a 15-day free trial. During these 15 days, you have access to all of the features without any limits;
Intuitive design: This PDF program has changed its outfit and made its new version much more modern. A Word-like interface can narrow the distance between you and a brand-new product. This design style does not require a steep learning curve for users.
Cons:
Limited version: It is only compatible with Windows systems currently and does not provide online tools, which is not so friendly for users of other operating systems;
Conclusion
The above-listed PDF to JPG converters, whether online or offline, can save your PDF as a JPG on Windows 10. Notably, most desktop PDF to JPG converters provide a one-week or two-week free trial. SwifDoo PDF enables users to change PDF to JPG in high quality and provides a longer free trial, which is worth the shot. Online converters usually provide two or three free tasks. That is to say, once you exceed the limit, all features are unavailable.