Lots of hobby projects involve drilling, screwing, and repairing. In many cases, a power drill is a secondhand and rescue. If you are not a professional, then investing in expensive tools may not be a priority. But with the low price, you would want to cover the most basic functionality and reliability. Take a look at the LOM YUM Electric drill, which has all the necessary features in small size and ergonomic shape.
The drill is really compact, having rechargeable 16.8V (4x1300mAh Li-Ion) battery pack in its handle. In the feature list, you will find all you need. Durability and reliability are ensured by metal gear and overload protection. It is IPX7 waterproof, so you can use it in harsh conditions. LED light pointed to the drilling area ensures that you always hit the right spot, even in dim environments. The speed control is stepless and can provide up to 18NM of torque.
Maximum clamp capacity is standard 10mm. It can grip any standard drill bit, screwdriver, or concrete drill bit. It has a battery indicator, so you know how much juice is left. The attached magnetic pad can be used to store a few screws ahead.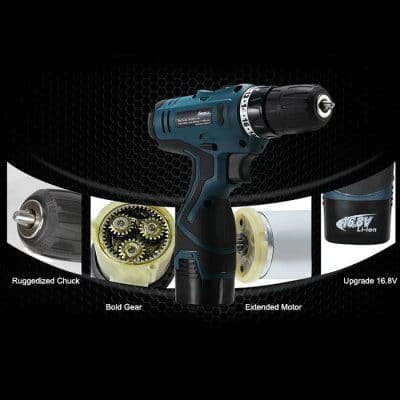 Overall the Electric drill looks excellent, considering its ergonomic shape, waterproofing, and its features. The low price, which is under $40, makes it a great choice as an everyday hobby or home tool.