When planning to relocate to a different place, there are several tasks you need to do. One of the main tasks is downsizing. Some people downsize because they are moving to a smaller home, while others downsize because they want to get rid of some items.
Downsizing is a task that comes with numerous benefits. First, it helps enhance the quality of life in the new home. Also, it simplifies your space and gives you time to focus on important things.
Even though it is viewed as a simple task, there are some mistakes most people make when downsizing. For instance, some people wait until the last minute to start downsizing.
Downsizing at the last minute will not be effective. Keep in mind the commercial movers need to give you an estimate based on what you need to move. Moreover, you might not sort the items properly.
To ensure your downsizing process becomes effective, here are some common mistakes people make when moving. Knowing them will not fall into the trap, and your downsizing process will be smooth and effective.
Common Downsizing mistake to Avoid
1. Not planning the new space before moving
One common mistake people make when downsizing is not planning the new space before moving. Before you start to declutter, you must have a plan. Measure and plan your new space before relocating.
Looking at the new space will not give you an accurate idea of the actual space. It is therefore important to get accurate measurements for every room. Then plan ahead of time.
With actual measurements, you will know the furniture pieces to get rid of and things you need to buy. But if you wait until the last moving day, you might find out that some things may not fit in the new space.
2. Waiting for the last minute to start downsizing
Another mistake you need to avoid if you plan to declutter is waiting for the last minute. Keep in mind decluttering is not a simple task. You need to go through all the items in every room.
Although it can be tempting to wait until the last minute, it can cause you stress. Remember, you have other important tasks you need to handle. So when you wait until the last minute, the task will cause too much stress and slow down your decision-making.
Therefore, the best option is to start downsizing a few months before moving. This will help you make good decisions about what you need to keep and those you do not need. And when it is time to start packing, you will not think about the items to pack.
3. Getting rid of everything
You might be tempted to throw away everything you have in some cases. It might not be a good decision to throw away, donate, or sell all you have. There are many items you may need in the new home.
Therefore, when downsizing, make sure you go through everything well. Although it may take some time, it is worth it in the long run. You will not fill your new home with unnecessary items, and you will help many through donations.
Also, you can make extra money by selling items in good condition that you do not need them. This is a good strategy where you can earn more to fund the move. You can sell the items online or organize a yard sale.
4. Paying too much attention to things you are leaving behind
To some people, downsizing can be an emotional experience. You might be attached to some items. This is because it is a big change. Thus, paying attention to things you leave behind after downsizing is normal.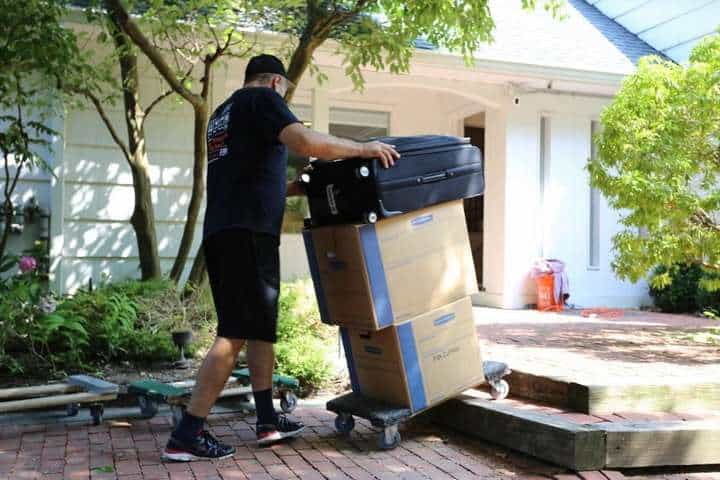 Therefore, it is essential to ignore the emotions when moving. When you dwell too much on those items, it will cause anxiety. The best you can do is to focus on the benefits of downsizing.
For instance, you will have less to worry about the smaller room, downsizing will make your life simpler, and you will enhance the quality of your life. Pay attention to items you will look to gain in the new place.
5. Not Being Honest with yourself
If you plan to declutter, you need to be honest with yourself. Most people mistake not being honest about what they need in the new home and what to get rid of.
For example, if you love cooking, do not keep plates or pots you do not need. Think of the new home and whether there is enough space for the extra pots, plates, and other kitchenware you do not use.
However, when sorting out your kitchen items, ensure you pack enough pots, plates, and other kitchenware. This will ensure you enjoy doing the activity you love to do. Hence, have enough storage for the extra items and get rid of those you feel are worthless.
Bottom-line
When it comes to downsizing, the process is not a simple one. Therefore, you need to plan well to avoid making the above mistakes. Set time for the task, be honest when decluttering, and do not pay too much attention to things you leave behind.
After decluttering, hire a professional moving company to help you pack and move your items. When you engage a reliable company, they will ensure your items arrive in the new home in one piece. 
Since they are experienced and have tools and great moving equipment, you can be assured the process will go on smoothly. You can choose to pack the items and hire for moving only or engage them for full services.