The 2nd most popular undergraduate program in India, 4.68 million students pursued BSc in the year 2022. And agriculture is one of the top employment sectors in India, often attracting 12th pass out to opt for an agriculture course. If you are also interested in making a career in the agriculture field, are you aware of the career opportunities this field has to offer? Well, to help you understand the career opportunities you will get after studying at BSc agriculture college in MP, we have compiled the higher education and job opportunities available in this field.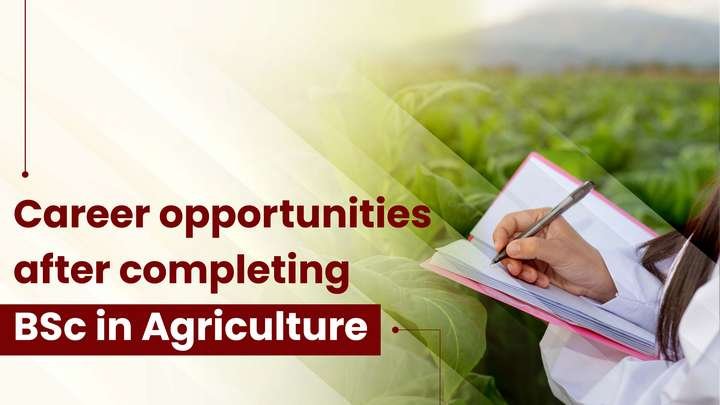 Table of contents
BSc in Agriculture- overview
BSc in agriculture is an undergraduate course in the agriculture field. In this degree course, students learn about modern agricultural techniques and technologies that can be implemented to enhance productivity.
At the best University in MP, you will learn about soil science, animal husbandry management, land surveying, and water resources.
Course Highlights- BSc agriculture
| | |
| --- | --- |
| Course Level | Undergraduate |
| Course Duration | 4 years |
| Eligibility Criteria | To apply for this course, you must have Passed with 50% aggregate marks in class 12th with Physics, Chemistry, Biology or Mathematics, or Agriculture. Reservations will be provided to the reserved category students as per the state Govt. norms. |
| Admission Process | Admission will be given based on the merit list of the class 12th examination. Reservation will be offered to the SC/ST/PH/OBC students. |
| Course Fee | 35,000 per year |
Career opportunities after studying at BSc agriculture college in MP
India is an agrarian country and now the agriculture industry is constantly getting modernized due to which demand for BSc graduates in agriculture has increased. As a BSc graduate will receive enormous job opportunities and higher education career options to choose from.
Let's have a look at them in detail-
Higher education option-If you are interested in the research field or want to have a deeper understanding of agricultural concepts, you can pursue these courses from the best University in Madhya Pradesh.

MSc Agriculture/ Plant Pathology/ Soil Science/ Entomology/ Plant Breeding and Genetics/Agronomy
Ph.D. Agriculture/Forestry

Jobs- There are numerous job opportunities available for BSc agriculture graduates in the private and public sectors-
Private sector
In the private sector, you will get the chance to work in chemical firms, research centers, the Pharmaceutical industry, academic institutions, etc.
Plant Breeder– In this job role, you will be in charge of investigating the qualities of seeds and working to enhance the qualities of seeds that are best for the plant. Plant breeders earn an average salary of Rs. 7,44,260 per annum.
Agriculture Sales Officer- In this job, you will hold the responsibility of looking after agriculture-related sales & marketing activities of a specified territory or region.
Agriculture technician– In this job role, you have to conduct research and tests on farms, gather and analyze data, and create reports based on their results to examine how the environment affects crops to assist and enhance productivity.
Agriculture officer- One of the best-paid jobs in the agricultural industry, as an agriculture officer you will be responsible to share your knowledge and expertise with farmers so that they can grow the most fruitful crops. You need to ensure that all the federal, state, and local laws are followed in farming operations.
Agriculture analyst– As an agriculture analyst, your job will be based on risk assessments, legal requirements, and professional knowledge to offer guidance on sampling and proper analysis that should be performed on livestock feed and fertilizers.
Farm Manager– As a farm manager, you'll be responsible for carrying out the farm activities smoothly, efficiently, and profitably. You will be in charge of fertilizing, planting, watering, cultivating, and harvesting the crops. They earn an average salary of 4,92,254 Rs. per annum.
Public sector
After studying at BSc agriculture college in MP, to get a job in the public sector, you need to give certain competitive exams such as the state forest exam, NABARD Grade A exam, UPSC -IFSC exam, and IBPS- SO exam to get job positions such as-
Agricultural officer
Probationary officer
Assistant officer at NABARD
Assistant officer/technical officer at FCI
Scientific Assistant/Laboratory assistant through SSC
Recruiters that hire BSc agriculture graduates from the best private university in MP
JK Agri Genetics Limited
Kaveri Seed Company
Big Basket
Raghuvansh Agrofarms Limited
ABT industries
Advanta Limited
National Agro Industries
Mansarovar Global University- One of the top Universities in MP
The agriculture department of this university was established in the year 2018, to enhance profitability for farmers by using the latest technology.
You will learn integrated knowledge of agriculture with technical skills such as GIS, programming & data analysis.
Well-designed laboratory with all the modern tools and technologies.
Students' creativity and critical thinking are fostered at MGU.
Trained and expert faculty members will provide you with theoretical and practical lessons.
Placement drives will be organized by the placement team.
Conclusion
To have a successful career in agriculture, having technical knowledge will prove an added advantage in the coming future. And a BSc degree will equip you with all the required skills and knowledge. So, register yourself at agriculture college in MP, enthralling career opportunities are waiting for you.
Frequently Asked Questions
Is NEET required for BSc in agriculture?
No, the NEET examination is not required to pursue BSc in agriculture. Students with PCM or PCB can apply for the course.
Is BSc agriculture in demand?
India is among the top 15 agricultural product exporters in the world. The Government of India is investing in agricultural infrastructure to enhance the productivity of farms, and due to this BSc graduates have great career potential and demand in the coming future.
What is the average salary of a BSc graduate in India?
A BSc graduate earns an average of Rs. 3,50,000 annual salary in India.
What are the latest trends in the field of agriculture?
The latest trends in the field of agriculture are-
Inclusion of autonomous tractors, robots, and drones to do efficient farming.
Urban farming
Vertical farming and hydroponics