There are many TV boxes to choose and it may seem that the more expensive are better. This is not always a truth. Sometimes cheaper ones can give all you may need. This time lets take a look at Beelink MiniMX III TV Box which uses the latest Android 5.1 operating system running on 64-bit quad core Amlogic S905 processor.
Beelink MiniMX III TV Box is capable of running any Android app on your TV flawlessly since it features powerful processor, 2GB DDR3 of RAM. It already comes with 16GB of eMMC ROM which can be extended with 32GB flash storage. It is rich in connectivity options like Buetooth 4.0, 1GB Ethernet, WiFi, HDMI 2.0 supporting 4K video output, 2xUSB 2.0, IR for remote.
Beelink MINI MX III Design
Beelink MiniMX III TV Box comes in simple minimalistic (palm sized) rectangular enclosure which is more practical than design element. It's main focus remains in functionality than shine. IT is worth mentioning that mate finished enclosure prevents from fingerprint marks.
Ports are located on the right and rear of the unit. On the right side there are micro SD card slot and full size USB 2.0 port. The rear side has optical audio output, 1GB Ethernet, HDMI 2.0 out, another full size USB 2.0 port and DC In. The IR sensor and power LED is located on the front panel.
Running TV box
As we mentioned TV box comes with Android 5.1 OS installed which has lots of standard apps that may also be extended with apps you like. As a standard choice it comes with Kodi (former XBMC) media center app which handles video, audio playback, running apps, games, displaying pictures and do other tasks in convenient way through IR remote. Other apps like Youtube, Facebook, Netflix run without problem.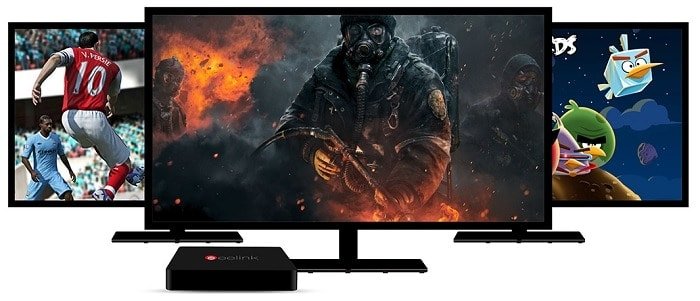 Networking
Probably one and most important feature of TV box is its networking ability. You may want to stream media from internet like watching Youtube videos, listen to the music. Also you can browse web pages check your email – all standard stuff you can do with your smart phone. The other part of networking is the ability to connect to network storage devices where you can playback movies from collection, slideshow pictures. If you have ability to connect LAN, then do so, because 1GB standard ensures high speed transfers, while WiFi are always more sensitive to noise, distance and speeds can be an order of magnitude lower than LAN. Anyway having both options available is great. If you are looking for great deal, Gearbest offers a Coupon Code: GBMXI that leads to Price:$43.85