Setting goals is one of the methods individuals adopt to achieve success. Without goals, it is difficult for an individual or team to monitor their progress level, or achieve success. Setting goals isn't just an individual strategy, as teams and other groups can also adopt this technique.
If you have a team, you will find that setting goals for them help to keep them on track. Presently, group goal setting has become commonplace in some organizations. This is because management uses this strategy to assess the performance of different teams.
When it comes to companies and the teams that make up those companies, straying from the route may be disastrous for the entire project, and there's no easy way to correct a mistake once you identify one. This does not just set the organization back, but it also hinders the success of your entire team.
Why Set Goals for Your Team?
Setting goals is also a wonderful way of encouraging team members to adopt new work habits. They will be introduced to different skill sets by working closely with other members, creating an environment that not only fulfills the goal but also produces stronger employees for future initiatives.
With team goals, you create a roadmap for the successful completion of a project. You will find that this strategy optimizes tasks, increases success rates, as well as directs group members to the most efficient approach. A departure from this strategy or the absence of clear instructions can affect a project, hence the reason most companies set goals for team members. If you would like to learn more about the importance of setting vital goals for your business, you can read this article.
Benefits of Setting Goals for Teams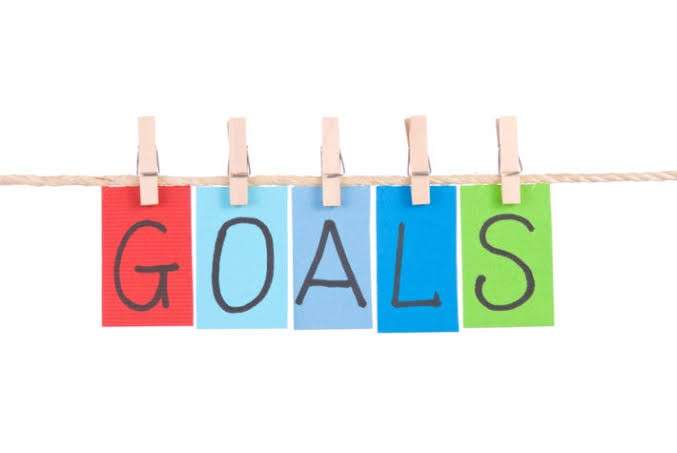 Here are some benefits of this strategy:
A well-defined goal promotes the company's values and gives the group a common idea of the ultimate product.
Roles and responsibilities are clearly defined, allowing people to optimize their strengths and focus on their unique goals.
Teamwork and team achievement develop naturally when each member is motivated by a common purpose.
Increasing input, particularly as the project nears completion.
The ability to quantify progress throughout the life of a project, allows teams to regroup and rework their action plan as needed.
Higher project completion rates, backed by a solid foundation of expectations set by the entire team.
Setting Team Goals
Here are some steps to follow:
Start Small
You will find that many projects are made up of a sequence of smaller goals that are coordinated in such a way that they build on one another to reach the ultimate goal. Collaborate with your team to identify the minor steps that need to be included in your action plan and include them as milestones to keep your team on track and monitor project performance over time.
Make a Note
Noting down goals has proven to boost the likelihood of success and can also assist members to link themselves with the goal, which can be a powerful motivation.
Make it Quantifiable
When pursuing any goal, it is critical to establish a system for assessing the team's progress at various stages of the project. One of the most effective methods to do this is to set explicit milestones at regular intervals during the project. If your team isn't hitting the goals you've set for them, find out why and modify your plan accordingly. For effective ways to evaluate a plan, check here: https://quickbooks.intuit.com/in/resources/starting-a-business/5-ways-to-evaluate-your-business-plan/
Key Activities Involved in Goal Setting
Here are some key activities involved in this strategy:
Set SMART Objectives
It is recommended that you get each group member to write a SMART objective and goal outline. The next step is to ensure that each team member is completely aligned with the rest of the team and that a well-rounded action plan is created.
Include the following in your outline:
The Project's title
The date on which it was created
The ultimate goal
The number of required success milestones, each broken down using the SMART method.
The steps in the SMART process are as follows:
S – Specific
M – Measurable
A – Achievable
R – Relevant
T – Time-bound
Prepare for Project Obstacles
For this task, you'll approach the goal from a broader perspective, focusing on how you'll address potential roadblocks and how you'll plan for success around them. First, have a discussion with your team about the goal and come to an agreement. Create an action plan that properly defines each group member's tasks and responsibilities in a way that is tailored to their individual talents.
Next, make a list of any tools or resources you might require, as well as which ones you already have. Then, make a list of all the advantages of reaching the goal. Consider why achieving the goal is important and how it aligns with the company's values.
Set Challenging but Achievable Goals
When creating an action plan for your team to reach the desired goal, it is helpful to stimulate growth within the team by creating objectives that are tough but still achievable provided the plan is followed. It is your responsibility to monitor team members to ensure that they remain focused on the task at hand.
Establish the Company's Objectives
These objectives must be specified precisely and explicitly for employees to achieve success within their firm and match themselves and future projects with company values.
This is more than a declaration of purpose that has evolved over time. These objectives will serve as the cornerstone for each employee's professional aspirations and as the guiding force for all corporate projects. Teams must have a clear knowledge of the company's goals in order to thrive and continue to succeed.
Creating a platform where these company-wide objectives can be discussed and accessed is a good method to assist your staff in achieving success with each project they execute. This can take the form of goals being conveyed through business training and handbooks, or company policies requiring a clear explanation of how a new project contributes to the organization's overall objectives.
Conclusion
For teams to achieve success, goals, and objectives have to be set. This article discussed relevant tips to guide you if you are looking to set effective objectives for your team.