Are you a science student wondering what you will do after graduation? Well, a BSc degree can put you one step ahead in the booming field of science. Additionally, you will notice a rush of students applying for a B.Sc immediately after the announcement of the 12th-grade results. Also, parents and students alike adore the bachelor of science degree because of great career prospects.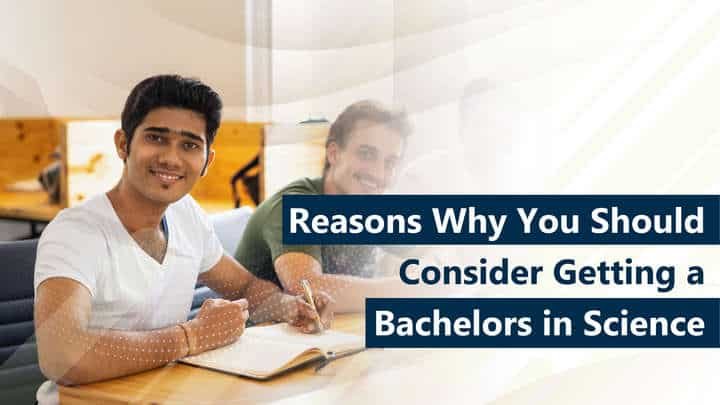 Stay with us as we discuss everything about this degree and the opportunities that come with it to learn more about the benefits of studying this course and the advantages of attending BSc colleges in Tamilnadu.
Table of Contents:
Know about a B.Sc
Almost every institute and university in India offers the BSc. program and is one of the most well-liked courses chosen by students who have a flair for scientific aptitude and zeal for research-oriented and calculative approaches based on a tried-and-true systematic method. Several details regarding this course are as follows:
| | |
| --- | --- |
| Full-form | Bachelor of Science |
| Degree Type | Undergraduate |
| Duration | 3 Years |
| Eligibility Criteria | Candidates must complete Class XII in the Science stream with an overall grade point average of at least 50% to 60% from an accredited board. Applicants must have completed the core subject combinations of Physics, Chemistry, and Mathematics (PCM) or Physics, Chemistry, and Biology (PCB). Unless otherwise stated by an institute's qualifying requirements, there is generally no upper age limit for pursuing a BSc. |
| Average Course Fee | Between INR 25,000 to INR 2 LPA |
BSc Specializations
The following are a few of the popular specializations offered by the top-ranked BSc colleges in Coimbatore:
Computer Technology
Computer Science
Information Technology
Psychology
Catering Science and Hotel Management
Costume Design and Fashion Design
Maths
Visual Communication
Data Science
Digital and Cyber Forensic Science
Artificial Intelligence and Machine Learning
Top 5 reasons to study for a Bachelor's Degree in Science?
The BSc is regarded as one of the toughest graduate programs and will require the utmost effort and commitment on your part. But it will all be worthwhile, for the following reasons:
1. Further Education
The majority of B.Sc. graduates have an interest in continuing their education to pursue careers in science, and you can pursue a master's degree or even a Ph.D. with a B.Sc. However, the more you study, the more focused your education path gets, allowing you to specialize in a particular area of expertise. And, most B.Sc. students would rather continue their education than pursue a profession, not because they lack career prospects, but rather because they would spend more time in colleges and pursue a niche field that will lead to success, and provide a fulfilling job.
2. Career Opportunities
B.Sc. courses from the best arts and science colleges in Tamilnadu give you the advantage of numerous job options. And, from careers based on the natural sciences like Physics, Biology, and Chemistry to careers based on Mathematics, Technology, and Computers, you can choose a field that genuinely interests you and create a career that you will love for the rest of your life. However, the list of careers you can pursue after earning a B.Sc. is virtually endless; students can even change their career paths to pursue management and law after earning this degree.
3. Respected Professions
A B.Sc. is a requirement for employment in some of the most prestigious and well-liked professions in the nation, including engineering and medicine. For instance, PCB (Physics, Chemistry, and Biology) and PCM (Physics Chemistry, and Mathematics) are the three courses you must excel in if you want to become a doctor or engineer, respectively. Also, students need to obtain a BSc. degree to pursue other significant careers, such as science and law.
4. Salary Benefits
B.Sc. graduates get a higher proportion of pay and a better selection of benefits when compared to graduates from other streams like Commerce and the Arts. And, as more nations develop and new work possibilities are made available by globalization, occupations in science and technology are expanding. However, in India, your degree from the best colleges in Tamilnadu for arts and science will increase your value as a professional and give you access to some of the greatest corporations and industries.
5. Change the World
Although it may seem improbable, B.Sc. graduates have a greater chance of influencing change and advancing society. Additionally, most people who conduct research and make discoveries, pupils who study medicine to improve their quality of life, and those who create new goods have backgrounds in science or have studied a subject closely linked to it. Therefore, pursue a B.Sc. degree if you want to make a difference in the world.
Job Prospects following this degree
| | |
| --- | --- |
| Job Roles | Average Annual Salary (in INR) |
| Science Consultant | 4-5 lakhs |
| Statistician | 6-7 lakhs |
| Scientific Assistant | 2.5-3.5 lakhs |
| Lab Chemist | 3-4 lakhs |
| Teacher | 2-3 lakhs |
Best BSc college in India
The SMS College of Arts and Science, one of the best BSc colleges in Tamilnadu, was established in 1991 by the Cheran Foundation Trust as a self-supporting institution. It is, however, affiliated with Bharathiar University in Coimbatore and provides high-quality education while recognizing social responsibility and holistic development. Here are some typical benefits of attending this institution:
The BSc courses follow an improved, modernized, and industry-based curriculum.
The students can disperse both theoretical and practical information on a variety of topics under the direction of its top-notch teaching members.
The college guarantees students' placements in multiple companies. And, to gauge the pupils' progress, many skill-based classes are offered. Blue-chip, Eureka Forbes, ICon Technologies, and others are some of its well-known employers.
Summing Up
A B.Sc. can significantly impact both your job and who you are as a person. It is the most popular degree program, so make sure to accomplish well in your 10+2 and apply to a reputable college with a degree that is accredited. Additionally, 49.12 lakh students are currently enrolled in BSc programs, which amplifies the course's future employment prospects. However, you could be able to gain more understanding and updated information about the course curriculum and career chances from the BSc colleges in Tamilnadu.
FAQs
What are the fundamentals of science?
The fields of mathematics, physics, chemistry, and biology are referred to as the basic sciences. And, the reason they are named "basic sciences" is that they give a fundamental grasp of both natural phenomena and the methods by which natural resources are changed.
What is the basic advantage of studying at the BSc colleges in Tamilnadu?
We can create new technology, find solutions to real-world issues, and arrive at well-informed decisions– both individually and collectively, because of scientific knowledge. Additionally, as science's applications are so beneficial and the scientific method is entwined with them, new scientific understanding might result in new applications.
What courses make up the curriculum for the BSc in Costume and Fashion Design?
Fashion designing and sewing technology, pattern grading principles, wet processing of textiles, marketing of clothing, and other subjects are covered in the course material. However, these graduates can find work at export houses, chain stores that sell clothing, factories that produce clothing, businesses that deal with leather and textiles, colleges and universities, brand outlets, and so on.
Which BSc concentration is thought to be the easiest in comparison to other specializations?
Although psychology majors can still expect to do a fair amount of statistical analysis on their way to a degree, psychology is typically thought of as the easiest of the science majors due to its relative lack of complex maths. However, the popular job profiles for these graduates include Psychology Instructor, Junior Psychiatric Expert, etc.