Unpopular opinion: Wholesale, logistics, and other manufacturing-related jobs comprise more than 20% of all jobs worldwide.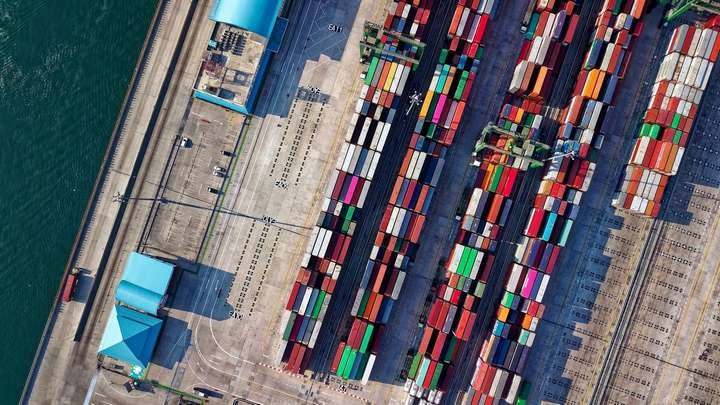 This sheds light on the fact that working in the supply chain industry is favorable for all graduates in this field.
What's more, supply chain and logistics salaries are highly competitive, reflecting the importance and difficulty of the work and the scarcity of experienced individuals.
So if you've got a degree in supply chain management or are interested in the field, then now's the perfect time to take your chances.
In fact, supply chain management touches on almost every aspect of business, from designing products to data analysis. With so many career paths and roles available, finding a position that matches your best interests and experience can be difficult.
However, with a bit of research and a clear understanding of the field, you can find a role that'll be an excellent fit for you.
Here are a few of the top supply chain jobs available:
Customer Service Representative
Average Annual Salary: $47,104
Customer service is always a crucial part of any interaction between consumers and businesses. However, customer service is the pinnacle of business success in supply chain management.
For more convincing facts, check out How Customer Service is Important to Supply Chain Management to gauge yourself and see if you have what it takes to be a customer representative.
The position of a customer representative in supply chain management ensures that customers are satisfied with the products they are receiving.
In addition to the aforementioned, customer service representatives offer service by providing product/service information and resolving problems that may arise.
These individuals are also responsible for attracting potential customers by answering service and product questions and suggesting information about other services and products.
Furthermore, at the most senior level, customer service career opportunities include overseeing the satisfaction of a company's overall client base and managing services.
Logistician
Average Annual Salary: $57,690
Logisticians, as the name implies, are individuals who work in logistics. They may be referred to as an operations manager, logistics director, planner or production manager, or even a logistician.
A logistician collects and analyzes data to coordinate a company's logistics—and may even be in charge of a product's entire lifecycle.
These individuals are employed in engineering, military, defense, software development, IT, infrastructure design, etc.
Inventory Manager
Average Annual Salary: $54,559
Inventory managers oversee the accumulation of resources and worldly things and analyze data for trends.
They are in charge of identifying inventory problems and implementing them by managing data and computer systems.
To optimize order and distribution schedules, inventory managers collaborate with logistics managers. They typically have previous experience with logistics and import/export.
Consultant
Average Annual Salary: From $23,787 to $634,665
Consultants work directly with clients to design and implement logistical solutions to specific problems. This frequently necessitates the consultant acting as a free agent, moving from place to place, solving problems; however, many consultants find this challenge rewarding.
Project management is an essential aspect of consultancy work. Consultants must manage data to find solutions, supervise the implementation of those alternatives, and ensure that clients learn simple supply-chain requirements for future independence.
Production Manager
Average Annual Salary: $84145
Manufacturing is among the essential aspects of the industry because it starts with the manufacturing process and ends with the final product in the hands of the customer.
A production manager, who oversees the production of products in a plant, is one of the most desirable jobs in manufacturing.
A production manager is responsible for coordinating production schedules, duration of production, and keeping track of finished product inventory, among other things.
In addition to more senior positions such as this one, manufacturing offers excellent entry-level opportunities, such as a materials scheduler who coordinates materials with production schedules.
Configuration Analyst
Average Annual Salary: $120,000
A configuration analyst supervises changes to relevant technical documents for high-tech machinery in engineering.
They are frequently in charge of completing essential projects on time and within defined budgetary constraints.
This profession demands appropriate technical and logistical skills as it is a fast-track to an administrative role that includes constructing standards and protocols by which complex engineering practices can be changed.
Supply Chain Manager
Average Annual Salary: $84145
Supply chain managers typically work with external suppliers to purchase parts and resources.
It's not uncommon to see a supply chain job description or job title paired with an operations manager, purchasing manager, project manager, or logistics manager.
Aside from purchasing and sourcing, supply chain managers analyze processes and data to improve reliability and efficiencies throughout the entire supply chain—from raw material procurement to finished goods delivery.
Larger organizations typically employ supply chain managers. They may work for automotive companies, manufacturing, government, military, materials suppliers, pharmaceuticals, and public utility companies.
Global Commodity Specialist
Average Annual Salary: $102,299
A global commodity specialist, typically a senior position within an organization, is a crucial employee in the purchasing department who coordinates the procurement method for specific commodities.
To be successful in this position, the global commodity manager needs to understand the local and international markets, risk and performance management, and supplier sourcing.
The following are some of the responsibilities of a global commodity manager:
Understand how a company's international and tactical procurement policy fits into its overall stratagem
Act as a liaison between various suppliers and manufacturers
Make sure that procurement helps the business in meeting its goals and objectives
Strategic Source Operationlist 
Average Annual Salary: $115,414
A strategic source operationalist ensures that an organization's purchasing and spending habits are cost-effective, profitable, and competent.
The person in this role is ultimately accountable to interested parties and may be required to present suggestions for approval to stakeholders.
Some of the specific responsibilities of a strategic source manager include analyzing business opportunities, negotiating with parties, collaborating with procurement and purchasing departments, etc.
Furthermore, individuals interested in this position must have at least a bachelor's degree in logistics, finance, or economics. Some high-end companies usually hire employees with a master's degree.
Conclusion
So there you have it – a list of all the fantastic and lucrative career paths to choose in supply chain management.
While these are just a few of the many positions in the field, they're a virtuous starting point for you to imagine your supply chain management career path.
Remember that the best supply chain management profession for you will be determined by your background, experience, and aspirations.