When dealing with PDF documents, you may encounter some of them too large to be uploaded or sent. A simple way to solve this is to split these PDFs into multiple smaller files. There are a lot of functional tools that can help separate a PDF. You can choose desktop programs or online tools depending on your personal needs.
This article will expound on how to make a PDF split up on Windows, Mac, and Google Drive.
How to Split a PDF into Multiple Files on Windows
Split a PDF into Multiple Files on Windows with SwifDoo PDF
SwifDoo PDF is a desktop program available on Windows 10/8.1/7/XP. It has 30 more features, including compressing, converting, merging, and splitting PDFs. The software is developed with a straightforward interface so that users can quickly access the target tool. It also impresses users with its fast response and small memory footprint.
Also, it makes it so easy to split a single PDF document into separate files. It can batch split multiple PDFs. Look at the step-by-step guide below to split PDF files on Windows PCs.
Way 1:
Step 1: Launch SwifDoo PDF and import the PDF file that needs to be split;
Step 2: Click Page on the top menu bar and select the Split tool;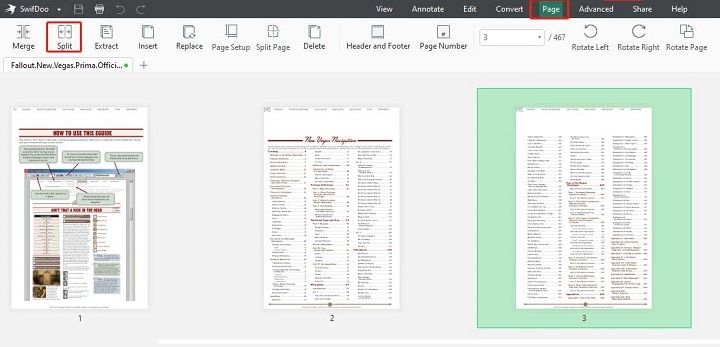 Step 3: In the SwifDoo Converter window pop-up, select the pages you want to split under Page Range. Then choose which method you want to use to divide the PDF under Options: Split Evenly, Split Every X Pages, Custom Split;
Step 4: Select an output path for the exported files and hit Start to complete splitting.
Way 2:
There is an easier way to access the SwifDoo PDF splitter, with which you don't have to open any file.
Step 1: Click PDF to Word in the Home tab after launching the software. Then you will directly get into the SwifDoo Converter;
Step 2: Choose PDF Split in the left pane. Import your PDF document by clicking Add Files or dragging and dropping it into the window;
Step 3: Determine the page range, splitting method, and output path. Press the Start button.
Using SwifDoo PDF, a 100Mb file with hundreds of pages can be split into smaller documents in just a few seconds. That will vastly simplify your workflow and improve efficiency. You can share your PDF to Google Drive, Dropbox, or email through SwifDoo. Also, SwifDoo PDF is useful if you want to know how to merge PDF.
While the industrial leader Adobe Acrobat surely can figure out the splitting issue, its high price may upset many users. If you are wondering how to split a PDF without Adobe Acrobat, SwifDoo PDF can be a great option.
How to Split a PDF into Multiple Files on Mac
Mac users are lucky to have a built-in PDF program, Preview. The program has some essential PDF features that you may need, including protecting, merging, and printing PDF files. While Preview is not as strong as dedicated PDF software, it helps split a PDF. Here is the description of how to split a PDF document in Preview.
Step 1: Launch Preview on your Mac and open a PDF file within it;
Step 2: Go to View, Thumbnails, or View and choose Contact Sheet;
Step 3: Drag and drop exact pages from the thumbnails out of Preview to a new folder. By doing so, the moved pages will be grouped into an individual PDF file;
Step 4: Repeat step 3 to split the current PDF into smaller files.
The preview provides a free method to manually split PDF documents. If you do not have too many files, it's absolutely a good solution. With Preview, you don't need to purchase a third-party application. In case you have to fulfill a more complicated and larger number of PDF tasks in the future, there are a lot of alternatives developed for Mac systems in the market.        
How to Split a PDF into Multiple Files via Google Drive
PDF Merge and Split is free, open-source software that works with Google Drive. It enables users to merge, split, rotate PDFs, and remove PDF pages. You can search and install this application on Google Workspace Marketplace to download it. Then whenever you need to use the software, you can access it from the Google Drive page. Check how to split PDF pages with PDF Merge and Split in a browser. 
Step 1: Log into your Google Drive account. Click New on the top left corner, select More and choose PDF Merge and Split in the drop-down list. You also can click the Google apps icon on the top right corner of the Google Drive page to find PDF Merge and Split;
Step 2: After opening the application, click Choose Files or Select files, folders from Drive to select PDF files from a local computer or Google Drive. You can import several PDFs at the same time to the interface, but this application only allows to process one file each time;
Step 3: Click one file from the list and choose Split PDF task type. Fill in the Starting page and End page input boxes with page numbers. Next, press Create PDF to start splitting;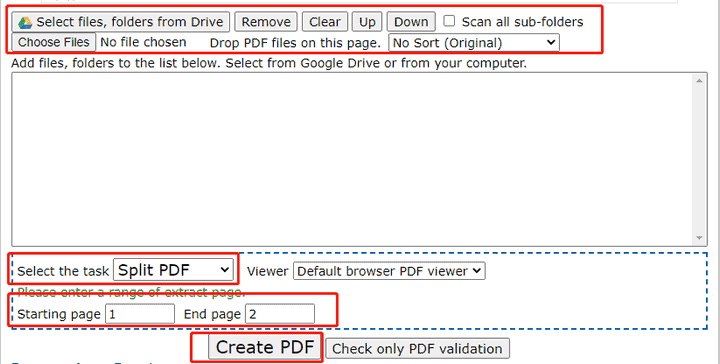 Step 4: Normally, it will prompt the status Completed at the end of the Process Log. Then you can move to the bottom of the page and download the extracted PDF to your local device or save it to Google Drive. But if your PDF format is not supported by PDF Merge and Split, you should convert it to the supported format first.
PDF Merge and Split only supports PDF1.4 and earlier PDF formats. For unsupported PDFs, it can convert to available formats. But the file size for conversion should not exceed 30Mb.
Choose the Most Suitable PDF Editor
Each of the 3 PDF programs can act as a PDF splitter. Both Preview and PDF Merge and Split can address some basic needs for PDF files. PDF Merge and Split, an open-source application, can be used on any device. Therefore, Mac, Linux, or other operating systems users may consider PDF Merge and Split as handy PDF tools to perform simple tasks.
SwifDoo PDF is a one-stop solution to abundant PDF issues. It can work as a PDF converter, compressor, watermark, password remover, etc. Most features enable users to manage PDFs in batches. SwifDoo PDF adopts the ribbon bar that's simple for users to learn. Concerning cost, it might be the most economical PDF editor among similar desktop applications.
Takeaway
For anyone who wants to try SwifDoo PDF, you can go to its official site or get it from Microsoft AppSource. Its installer is around 10Mb, and the downloading process will be fast and smooth. This Windows software provides up to 15-day free services without limitations on features or file quantity. With a single SwifDoo PDF account, you can use the application on multiple devices. That's so convenient for those who need to work at the office and home.