Due to genetics, hormonal changes, and pollution, many types of hair problems are raised. These problems are resolved through the best hair transplant in London. But making the decision to undergo a hair transplant can be difficult, particularly if you are unsure as to the extent of your hair loss. However, with a consultation with your GP, you can then begin to make changes, such as taking medication or even undergoing a hair transplant to help maintain the growth of your hair. With the hair transplant cost becoming more and more affordable, you can have a number of sessions without spending a small fortune, making it more accessible to all. In this article, we will be looking into whether or not a hair transplant is a right option for you and the hair loss that you are experiencing.
The Norwood Scale
When dealing with hair loss, your first port of call should be the Norwood Scale. This is the scale used by physicians to determine which determines just how severe your hair loss is. The scale consists of the following stages.
Stage 1 – very minor with no recession of the hairline
Stage 2 – Triangular hair loss with symmetrical areas of recession
Stage 3 – This is the lowest extent of hair loss to be considered balding on the Norwood Scale
Stage 4 – Recession at the front of temporal areas that are more severe than stage 3
Stage 5 – Hair loss to vertex region
Stage 6 – Loss of hair in the bridge of the crown as well as the front temporal and vertex regions
Stage 7 – Most severe form with only a narrow band in a horseshoe shape on the back and sides of the scalp.
The hair loss that is experienced in each of these stages can then help determine the number of grafts that are needed during a hair transplant procedure, therefore, allowing for a procedure plan to be put in place.
Types Of Hair Transplant Procedure
When looking into the different types of hair transplant procedures, you have two choices there is either a FUT or an FUE option which are ideal for both men and female hair transplants.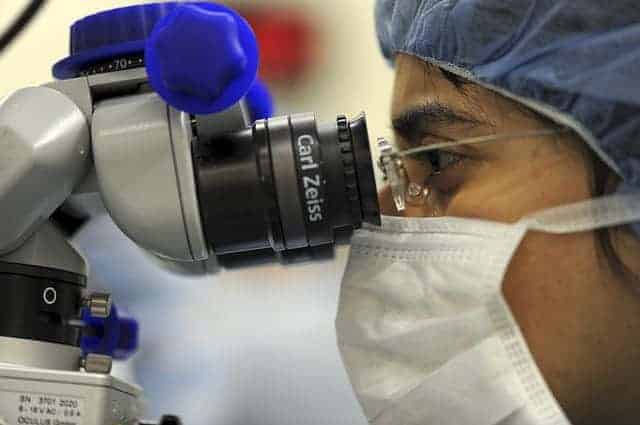 FUE Transplant
A follicular unit extraction is the removal of each hair follicle individually from the donor area before being transplanted into the affected area for a natural-looking result. This is commonly used on those that are looking for natural results with minimal scarring as there is a small hole for the hair to be removed and transplanted into, helping to minimize scarring.
FUT Transplant
A follicular unit transplant differs ever so slightly from an FUE hair transplant as it involves removing hair follicles from the donor area in a strip. This not only helps to keep the hair follicle from becoming damaged, but these are also then implanted into the affected area to provide natural-looking results without causing too much damage to the surface of the scalp. Though there is more scaring in the donor area with this style of treatment, this is soon healed leaving behind outstanding results with a thick head of hair that looks completely natural.
Positives Of Hair Transplants
Though there is sometimes negative press surrounding this style of procedure, there are a number of o positives that come with undergoing a hair transplant procedure. Whether this is a boost of self-esteem or an increase in the growth rate of your hair. this can all help you to feel better about yourself without having too much downtime from work. This is highly beneficial for those with a busy schedule as you are only required to have two weeks' downtime before gradually returning to work, allowing you to undergo treatment and return to your office job in no time.
Negatives Of Hair Transplants
Though there are very few negatives when it comes to hair transplants, there is the possibility of being scary in the donor area. Though this is helped through the implementation of an after-care plan, this can take time and will require you to have little movement during the two-week healing period. This will not only regulate the blood flow to the affected area, but it will help to ensure that hair grows back naturally in both the donor area and the affected area that has recently had the implants.
By following the aftercare plan perfectly and washing your hair with all-natural shampoo and conditioners, you can help to make the most out of your hair and maintain the health of the scalp as well as the prevention of bruising, bleeding, or infection that could occur if not properly cared for.
Finding The Perfect Price
In addition to the pros and cons of hair transplants, it is vital that you find the right price for your budget. The higher number of grafts that you require, the more the hair transplant will cost. Therefore, it is important to look at a number of medical professionals to see which works best for you based on price and expertise in their field. Though it may take time to find the perfect price for your hair transplant procedure, it will be worthwhile when it comes to the results that you receive. This is particularly important if you are looking to undergo a number of procedures as this can lead to a large amount of money being spent over a prolonged period of time.
Choosing Based On Expertise
The final way to know if a hair transplant is right for you is by looking at customer reviews for the clinics you are considering. This is the best way to find out what the overall experience is like and look at before and after images showing results. Based on the experiences others have had, you can then begin to make an informed decision on whether or not you are willing to spend the money. Though this can be time-consuming, this is a simple way to get the most out of the procedure without paying a small fortune. With this in mind, there are many treatments available to help with every stage of hair loss, allowing you to recover your hairline and regain self-confidence over a prolonged period of time. Will you be choosing a hair transplant to help with your hair loss?