CPA (Certified Public Accountant)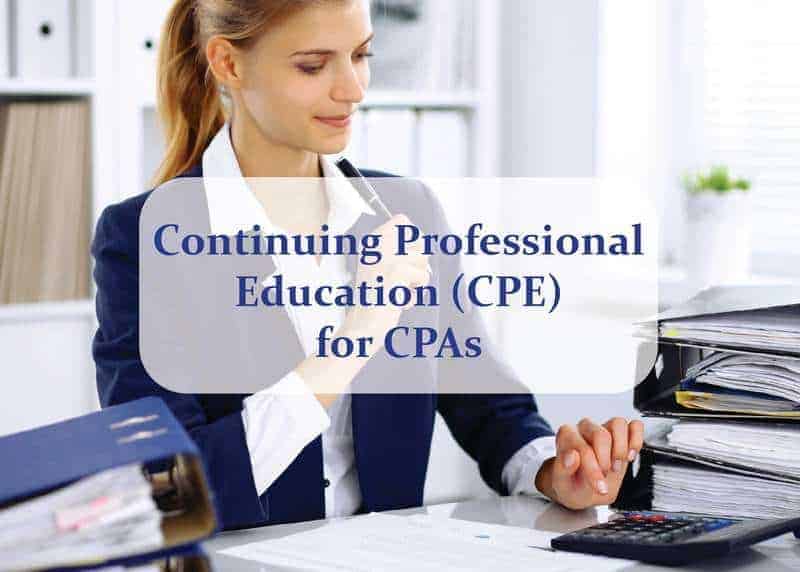 CPA is a designation given to individuals who passed the Uniform CPA exam by the AICPA (American Institute of Certified Public Accountants). The US CPA credential enforces professional standards in the field of accounting. Many countries have equivalent CPA credentials, notably called Chartered Accountancy (CA).
Key takeaways of CPA:
A CPA must meet the requirements of education and work experience, including a bachelor's degree in finance, business administration, or accounting. 
The candidate must pass the Uniform CPA exam to attain the license of CPA.
CPAs hold different positions in corporate and public accounting like Chief Financial Officer (CFO) or controller.
Continuing Professional Education (CPE)
Continuing Professional Education (CPE) is needed for the US Certified Public Accountants (US CPA) to maintain their reputation, professional competence and provide the best quality professional services. US CPAs are often responsible for complying with rules and regulations of accountancy state boards, applicable CPE requirements, and professional organizations and membership associations.
What are the CPE requirements for the members of AICPA?
One can answer the frequently asked questions on the CPE membership requirement policies. So, it's good to learn more about the requirements of CPE for the CPA licensure renewal.
Get CPE from AICPA
AICPA's high-quality CPE will help you maintain professional competency right from covering hundreds of topics, choosing thousands of hours ranging from foundational to expert, and delivering via on-demand self-study, live events, webcast, and so on.
AICPA's statement on CPE program standards
The CPE standards for the CPA are published jointly by NASBA and AICPA to offer a framework for the presentation, development, reporting, and measurement of CPE programs. Both AICPA and NASBA had issued CPE standard revisions on December 19, 2019, which were effective on December 31, 2019.
Continuing Professional Education (CPE) solutions are often proud to be the source of high-quality. Over 60 years, as we all know, Becker is the leader accountants trust in helping them stay with current and latest industry content. Becker's CPE courses' features are consistently growing, and the topics for CPAs include flexible learning formats written by industry experts and a preferred way to learn.
CPA Exam Format
There are four sections in the CPA exam:
Regulation (REG)
Auditing and Attestation (AUD)
Financial Accounting and Reporting (FAR)
Business Environment and Concepts (BEC)
The AICPA administers the CPA exam. The total duration of the exam is 16 hours (4 hours for each section).
| | | | | |
| --- | --- | --- | --- | --- |
| Section | Section Time | Multiple-Choice Questions | Task-Based Simulations | Written Communication |
| REG | 4 Hours | 76 | 8 | – |
| AUD | 4 Hours | 72 | 8 | – |
| FAR | 4 Hours | 66 | 8 | |
| BEC | 4 Hours | 62 | 4 | 3 |
Multiple-choice questions vary from being one sentenced to paragraph length questions with 4 potential answers. In contrast, the Task-based simulations require the candidates to type in answers. They may include journal entries, research questions, reconciling accounts, filling out a form with multiple questions, or filling out report sections. Written communication tasks test a candidate's ability through writing, and these are essential in the business environment. 
CPA Course Benefits
The benefits of CPA course are listed below:
International Recognition: Pursuing a CPA course creates many opportunities for CA, CS, ICWA, M.Com, MBA (Finance), LLB, and Commerce graduates who aspire for international certification. 
Career Opportunities: After passing the CPA exam, the candidate can start his career with Auditing & Accounting firms, Investment banks, Research firms, Commercial banks, Private equity firms and so on.
Attain Knowledge: The Certified Public Accountant has proper essential knowledge in US GAAP, business laws, and US federal taxation.
Flexibility & Ease: CPA exam is a single level online exam with 4 sections. The candidate can easily clear all the 4 sections in less than a year.
Career Scope for CPA
The CPA degree paves countless opportunities to work for some of the most renowned companies around the world.
Becoming a CPA can lead to several career options:
Public Accounting: In public accounting firms, CPAs provide services encompassing accounting, auditing, tax, and consulting services for clients of any size. The auditing of financial statements of public and private companies is a highly coveted job.
Business, Government, and Not-for-Profits: In this broad field, CPAs can hold various positions ranging from financial analysts and staff accountants to CFOs. They are responsible for recording, analyzing, and reporting financial information for organizations. Additionally, they perform budgeting and internal auditing functions.
Specialist: CPAs also provide services in specialized areas. CPAs assist organizations by conducting risk assessments and analyzing, implementing systems improvements and revisions, in managing their information technology, including the massive amounts of data collected.
Financial Advisor: CPAs also serve as financial advisors to individuals by making informed financial decisions on their behalf to help them manage their finances related to home purchases, college savings, starting a business, and retirement planning.
The CPA certification paves countless opportunities to work for some of the most renowned companies around the world.
Mentioned below are some of the best jobs in India for a CPA:
Senior Financial Analyst
Risk and Compliance Professional
Corporate Controller
Accounting Software Developer
Information technology Accountant
Personal Financial Advisor
Finance Director
Conclusion
This is how CPAs acquire CPE requirements. I Hope you attain insights into Continuing Professional Education (CPE) and Certified Public Accountants. Still, you've any queries feel free to comment below.