This project was born for repairing broken PC monitors. This allows avoiding using a computer while testing monitor patterns. The Tiny monitor tester uses ATTiny2313 AVR MCU running at 20MHz speed. Such speed allows running synchro H and V signals directly from MCU ports. Also circuit converts R, G, B signals to analog using a simple R-2R resistor network.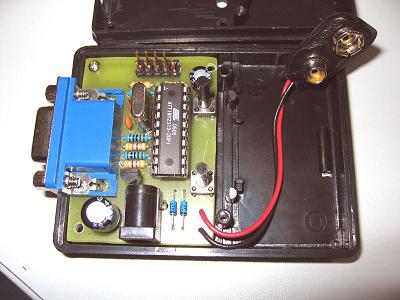 ATTiny2313 Monitor tester:
can generate 8 different raster images;
supports resolutions of 640x480x60Hz, 800x600x60Hz, 1024x768x60Hz;
is near to credit card size;
DC adapter or battery powered;
One of the test patterns on an LCD monitor: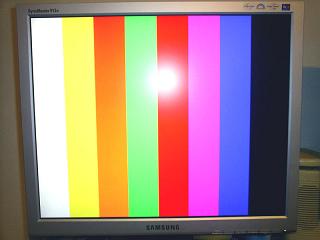 I think it is a good device for testing used monitors when buying them in a public market. You don't need a PC, plug Tiny Monitor tester, and you will see if there are any damages, are all colors working, dead pixels on LCD's, are different resolutions OK, and so on. This thing should be included in a must-to build list.
You can download ready to burn hex software and AVRASM source file in a single archive here: