Printed circuit boards (PCB) are the essential component in every electronic device. You've probably seen a circuit board which carries a multitude of different size electronics components soldered to it. If you are familiar with electronics basics, you probably already know that PCB connects those electronic components with small copper tracks into a single working device.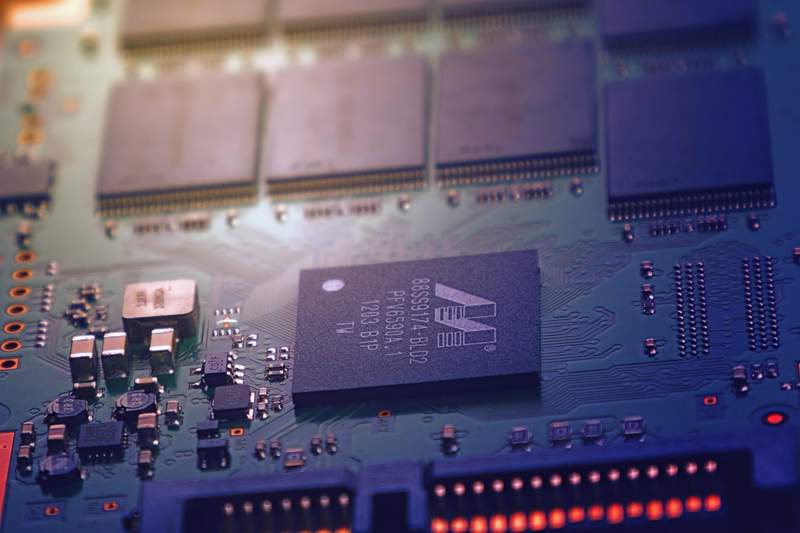 PCB manufacturing process is quite intensive requiring expertise, precision and knowledge. The success in making a functional device starts from designing the circuit. You can build the best PCB in the world with the best components, but if the initial circuit is not tuned up with proper parameters – it won't work as expected and will be doomed for failure. Before thinking about building a PCB, the circuit has to be perfected. The process involves circuit simulation and mocking prototypes to make sure functional elements work as expected.
The design of PCB
Once the circuit layout is accomplished, the PCB designing starts. Depending on the complexity, dimensions and purpose of the device, multiple parameters must be taken in to account. Before designing PCB, it is best to choose a PCB manufacturer where you can find guidelines and capabilities which you can follow. There is no difference which PCB fab you select; it appears that technology is pretty similar. There is an intense competition among manufacturers, so they all are keeping prices low and quality of manufacturing high.
Ordering the PCB
If you open PCBgogo instant quote form, you will see a convenient way of picking PCB parameters that and instantly see the approximate price of building your first batch.
Usually, the most common parameters are already preselected. As a base material, there is an FR-4 (lass-reinforced epoxy laminate) used. It suits typically for most of the electronics. If you are looking for more advanced options such as better thermal properties, you may want to take a look at Aluminum or even copper base material. For high-speed electronics working in the microwave, wavelength ranges advanced materials such as Rogers can be used.
Down the list, in the quote form, you have the option to select how your design will be panelized. By default, your PCB is selected as Single piece, which means that it will be automatically included next to other orders to fill up the standard panels. Later your board will be cut out as a single piece and sent to you. This approach helps manufacturer save materials, and they try utilizing most of the PCB space in panels. However, you are limited to selecting other customizations that may differ from other boards. If you are doing prototyping only and order small batches, then single piece option is way to go.
Other standard parameters are board size and quantity. Without touching other parameters, size and number allow quickly to estimate the build cost. For instance, ten 100 mm x 100mm double size PCBs will cost $5 without shipping. This is pennies considering what conveyor procedures it overcomes.
You are free to select from 1 to 14 layers of single PCB; of course, more layers bring additional complexity in the manufacturing process; thus, prices go up.
There are several geometrical parameters, such as PCB thickness, track spacing, minimal drill hole. Standard boards in the best price range are 1.6mm thick, but you may need very thin starting from 0.2mm to very thick reaching 3.2mm. Standard track size and spacing is 6mil and can go down to 3/3mil. Standard hole size in best building price range is 0.3mm and be as small as 0.15mm.
Standard solder mask colour is green. Unless you are building a brand, it is recommended to stick with this colour. It is not even cheapest, but also easier to automate processes as most of the batches are green. Same goes with silkscreen. White is standard, but you can choose black, yellow and even decide not to print it at all.
PCBgogo offers many surface finishing options. The most common are HASL with lead or lead-free. You may want to protect it with different materials such as gold or silver and even choose not to protect. Other options lift price, so unless you are in specific need, stick to HASL.
There are few more additional options you can find while ordering, but basically, if you do standard prototyping, everything is preselected for you. Just remember each deviation from the usual selection will sky jump the price, as manufacturing from mass production becomes individualized.
Before the PCB is considered complete, a technician will perform an electrical probe test on the board.
The whole manufacturing process takes from one to several days, depending on load and other circumstances. Probably the shipping takes the longest time. Depending on your location, boards may arrive within week or two. If you want it faster, choose courier services with extra charge.
Once the PCB prototype is finished
Above we covered prototyping capabilities. Once the board is ready, it can be shipped, or you can go further. You can choose to make stencils which will help to apply solder paste for SMT. Stencils may be helpful when producing multiple boards, and you need to pick and place small SMT components.
Stencils can be made for single or both sides. The thickness of the sheet may be selected from 0.1mm to 0.2 mm in 0.05 steps.
Why bother soldering, sourcing and testing? You may opt-in for full assembly service. PCBgogo offers the whole assembly of your PCB. Here you can choose how you source the parts. You can leave them to supply parts from partners with best deals as they have a long relationship. Of course, you can take control and ship them necessary components or do compo supply were some critical components you supply and other generic can be handled by fab-house. Assembly pricing starts from $50 for minimum order. If you look for professionally made PCB, assembly service is way to go. You will hardly save any money by DIY.
About PCBgogo

PCBgogo specializes in quick-turn PCB prototype and PCB assembly. With three established factories (17000 sq.m.) they are capable of fabricating large and small volume PCBs. PCBgogo is fully compliant with the ISO 9001:2008 quality management system, UL certified and committed to adhering to the strictest standards in manufacture and assembly.