Everybody needs inspiration for a lot of things. From fitness, food, fashion to art, work, books, and even knitting. The digital age has made it easier for you and me to find some sense of artistry and creativity. If you are a beginner in knitting, the web is a good place to start. There are many available resources and everything is circulating within the network–books, workshops, videos, and blogs!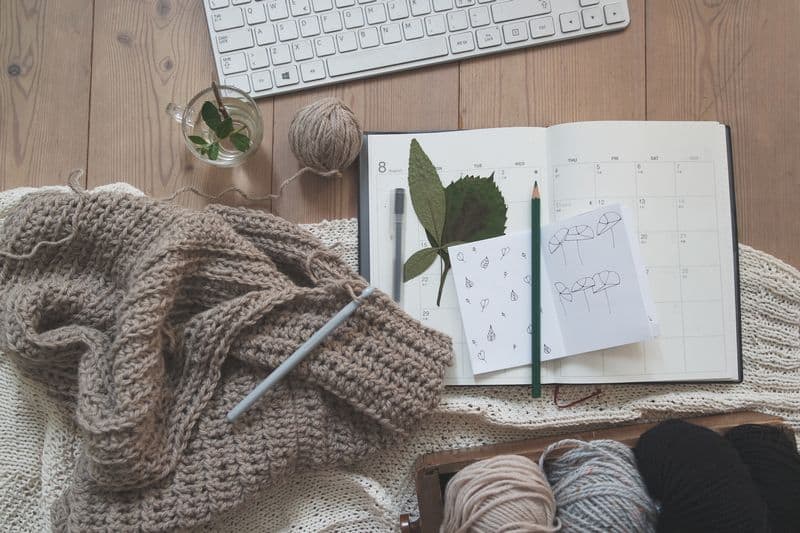 What are blogs? Blogs are websites that mostly contain published content. Photos, videos, links, and other elements can be added there too. If you are looking for a knitting inspiration, something that will provide you tutorials on knitting or encourage you to work on your projects in the best way possible, you can visit these portals through any of your devices for free!
What are the Top X knitting blogs that you should in 2019? Read on!
1. We Are Knitters
We Are Knitters, as they say, is totally all about knitting. With one stitch at a time, they aim to make a difference in the world by creating and looking for new ideas, designs, friends, and trends. Also, they are committed to sustainable knitting.
The blog publishes about the different kinds of stitches and explains how to create them. Other posts feature embroidery, crocheting, and sewing. We Are Knitters has a huge collection of designs and designers and provides free patterns on a massive amount of knitting projects.
2. The Knitting Blog by Mr. Puffy the Dog
Yes, that's the blog's domain name. The Knitting Blog by Mr. Puffy the Dog is owned by a British woman named Claudia Bugh. She proudly introduces herself as a passionate baker and knitter. That is why her posts feature not only her amazing knitting projects but also her favorite baking recipes! What's more, she also has an artistic eye for photography.
If you're looking for inspiration in baking, knitting, and photography, then maybe this blog is what you're looking for.
3. Knitting Sarah
Sarah Chy is an independent blogger who knits and then writes about it. She is accomplished and deft in standard knitting techniques, she even teaches it! Apart from being a knitting instructor, she shares her wondrous passion for knitting, spinning, and fiber arts, in general, through writing.
Knitting Sarah is an ideal source of creativity. You will see photos, articles, reviews, and tutorials that will give you a hand on your next projects.
4. Never Not Knitting and Sometimes Sewing
Never Not Knitting and Sometimes Sewing is known for posts on knitwear design and unique patterns, as well as plenty of best-selling books on knitting patterns. The author, Alana Dakos, and her friend Jenny own an online shop where they sell their crafts. They mostly blog about their awesome projects and conduct tutorials on how to knit them. There's a webpage on the site where different beautiful patterns are posted with PDF files available for your purchase.
5. Knit Om
Knit Om promotes therapeutic knitting and conscious living. Becky Stewart is both the creator and curator of this blog. She firmly believes that knitting can greatly help in everybody's pursuit of soul nourishment. Knitting can be an essential part of one's wellness toolkit.
As she encourages her followers to develop a regular knitting habit, she makes sure that she provides them with the most outstanding tips, techniques, and tools for knitting.
6. Knitting Nuances
Knitting Nuances is a very generous blog that offers fun knitting designs, tutorials, and new techniques regularly. The authors are utterly innovative and they are addicted to creating and developing new concepts, ideas, and theories every single day. Watch out for the bonus materials they also give away to their readers!
7. Sintelli Blog
Sintelli is a leading manufacturer of knitting machines in China. But apart from producing equipment for machine knitting, it also owns a blog where articles related to machine knitting are posted. If you're curious about these machines, or for example, about the Addi knitting machine patterns, you can visit the website and scan through their catalog. You will then have an understanding of how these machines can contribute to your own knitting business or passion.
8. Fridays with Franklin
Fridays with Franklin is a knitting blog that will invite you to knit along with the author! Owned by a designer and knitting book author Franklin Habit, this blog provides just about everything that you might need in working on your new project.
He shares every project with his followers, together with the instructions on how it can be created. He mentions the tools, some tips, and tricks, etc. He provides videos and guides on knitting, then offers free downloadable patterns. How amazing is that?
Conclusion
Through the different knitting blogs circulating around the web, you can actually improve your knowledge and skills on knitting. Go ahead, find something to admire and make it your model. Follow the tips provided for you, subscribe to newsletters that give free patterns, watch those tutorials, and be one of the best knitters alive! And one last amazing idea: why not create your own knitting blog? Good luck!