Not all bathroom remodeling projects require hiring professional remodelers; you can easily incorporate minor changes by adopting the DIY route. DIYing allows you to address and eliminate many issues in your bathroom, such as mold growth and leaking faucets in their early stages, when handling them is easier and economical.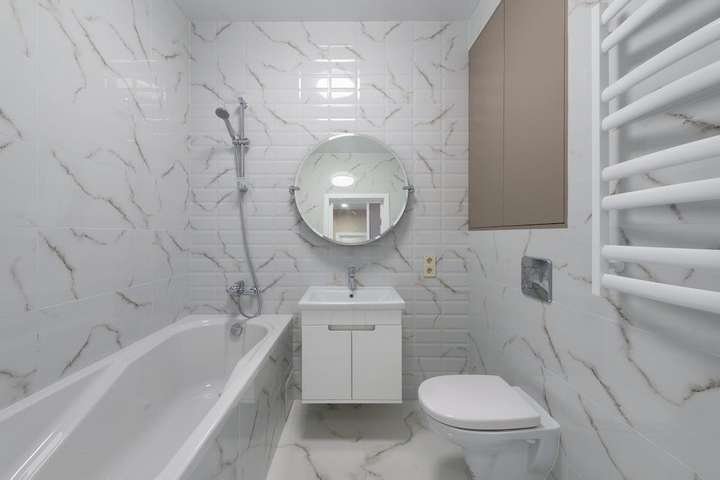 You will appreciate the importance of DIY home renovation skills even more if you live in a place like Indianapolis. Here, the unfriendly weather characterized by long, warm, humid summers and cold and snowy winters can lead to various issues in the bathroom, requiring immediate attention.
Having said that, here are small but modern home remodeling ideas you can easily manage by DIYing. These fresh ideas, ranging from thorough cleaning to easy upgrades, can transform the appeal of your house while increasing its value.
1. Address any mold problems
Excessive humidity and moisture in the bathroom can promote mold problems. However, you can easily tackle the mold problem while it is still in its early stages by deep cleaning your bathroom.
Before scrubbing off mold from fixtures and walls, wear protective gloves, a face mask, and safety goggles to prevent direct contact with mold spores. Open windows and turn on the exhaust fan to improve ventilation.
Make a cleaning solution with vinegar and water in a 1:1 ratio and 3% hydrogen peroxide and transfer it into a spray bottle. Cover the affected area with the cleaning solution and scrub the area with a brush. Then, wash the area with plain water to clean the residue.
However, an intensified mold problem requires professional help. Mold can grow quickly in areas like Indianapolis, where hot and humid summers with temperatures as high as 92°F and humidity levels reaching 70% encourage growth. In that situation, you should not waste time in DIYing and search for the phrase best Indianapolis bathroom remodeling company near me online to seek professional help for your bathroom renovation. Though you can ask your friends and acquaintances about bathroom remodelers working nearby, searching online is the quickest way to get multiple options.
2. Install new lights
Adding new lights is an easy but transformative bathroom remodeling project, as it can quickly freshen up the look of your bathroom.
There are many ways to install new lights in your bathroom. For instance, you can install new pendant lights in front of the mirror to reflect light more efficiently around the bathroom. Also, if you have a big bathtub, hang a big chandelier right over it or in the middle of the room to add character.
3. Change shower tiles
The shower is a prominent area in a bathroom, making changes to it look more conspicuous. One of the best ways to accentuate your shower area is by changing its tiles.
Retiling is an easy way to bring your dated bathroom into the current century without even making structural changes. Amazing right?
When retiling the shower area, nothing can be more appropriate than the classic white subway tiles or the orthodox marble pattern tiles.
4. Redo the wall behind the vanity
Retiling is not just for shower space; the wall behind the vanity can use some retiling for a more upper-class and modern look. You can also mix and match tiles between the shower area and the wall behind the vanity to create a design feature. But if redoing the vanity wall is the only project you are undertaking, try hexagonal tiles for a more chic honeycomb design.
5. Install a towel warmer
Even if your bathroom has a plain and practical design, installing a towel warmer can make it look and feel ultra-luxe. You can choose wall-mounted versions, which are easy to install using a few tools and can be operated through a standard electrical outlet. Tower warmers also make an excellent gift for those who appreciate your thoughtfulness and choice.
6. Repaint the vanity
A vanity is a prominent piece of furniture in a bathroom; improving it can make your old bathroom look fresh. Paint your vanity with a bold color to transform a boring bathroom into one that grabs attention and feels stylish. Using a bright blue color—if it goes with the color palette of your bathroom—is an excellent choice. It can add drama and character by making the vanity look completely different from its old self.
7. Change the frame of the mirror
Changing the frame of the bathroom mirror is an economical but impactful change, making an old mirror look fresh and clean.
Add art to the bathroom mirror by painting the frame with a fresh coat of color or making decorative patterns such as birds and flowers.
This small change can infuse your bathroom with your personal flair, breathing new life into it. Just make sure the paint and material you use are appropriate for the bathroom environment.
8. Build custom storage
There are many places in a bathroom that you can utilize to maximize storage space. However, not all ready-made storage options can fit your bathroom's layout well.
The easiest way to add more appropriate storage in your bathroom is to build customized storage, such as a storage ladder. You can design this storage ladder to accommodate toiletries, towels, bathroom accessories, and other personal care items. The best part is that the ladder's leaning design protects your walls from damage.
9. Add a pedestal basin
A vanity in the bathroom looks very upscale, plus its storage offers added benefits, but the truth is that a vanity can also make your bathroom look small. By taking essential square footage, vanity can restrict the flow of movement in the bathroom.
Replacing a vanity with a pedestal basin is a more practical and functional idea, especially for a small or half bathroom where space is already at a premium.
A pedestal basin leaves space underneath, giving an impression of spaciousness even in a small bathroom. Besides, pedestals come in various styles, sizes, and colors, so you can effortlessly pair them with the décor and design of your bathroom.
10. Save water with a dual-flush toilet
The best thing about this bathroom renovation project is that it does not require replacing the entire toilet. Using them lets you transform an ordinary toilet into a dual-flush one, saving water and money on your water bill.
However, if the toilet in your bathroom is outdated, badly stained, and needs a makeover, consider replacing it with a modern and better-functioning one. You can easily find dual-flush models in all price ranges, from medium to high.
A small tip
Don't go for cheaper models; they may cost less initially but may not be as efficient and long-lasting.
Conclusion
Basic DIY bathroom remodeling skills can be very beneficial as they help you save money on hiring outsiders to do simple jobs. Using your DIY skills, you can transform the environment and functionality of your bathroom through projects like deep cleaning mold and adding customized storage. Furthermore, changes like redoing the tiles and upgrading the wall behind the vanity can make your old bathroom look and feel upscale.